Guillermo Francella's series "El encargado". [ESP/ENG]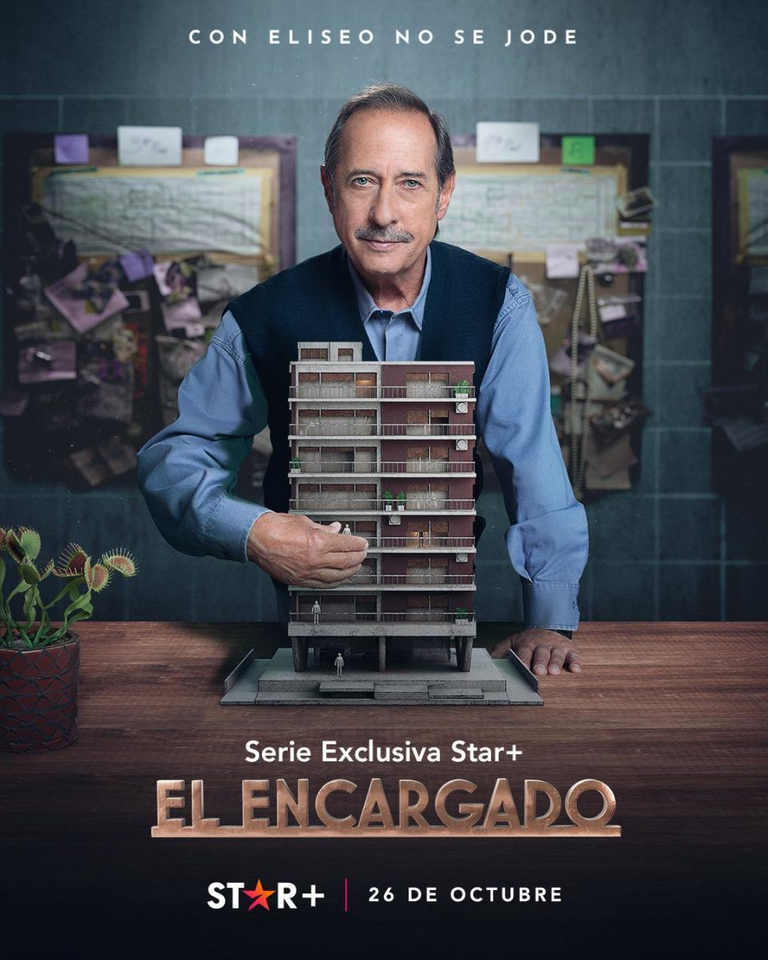 Source

Hola comunidad amante del cine, películas, series y la televisión, contrate este servicio de Streaming únicamente por esta serie que (aun no se si sacaran una segunda temporada) pero que es algo muy relevante a la hora de hablar de políticas y psicología obviamente desde mi punto de vista
Hello community lover of cinema, movies, series and television, I contracted this Streaming service only for this series that (I still don't know if they will release a second season) but it is something very relevant when talking about politics and psychology obviously from my point of view.
Para algo resumido para empezar, trata sobre un encargado que ejerce hace 30 años en un edificio en un barrio de gente con un status social económico bastante alto, y que para "mejorar" su estilo de vida desean poner una pileta en la terraza del edificio, donde está la casa del mismo encargado, aparte de ello viene también a sacarlo del puesto en consecuencia
For something summarised to begin with, it is about a manager who has been working for 30 years in a building in a neighbourhood of people with a fairly high economic social status, and who, in order to "improve" their lifestyle, want to put a swimming pool on the terrace of the building, where the manager's house is, and also to remove him from his post as a consequence.

Siempre el hablar de estos temas es importantes, y desde mi lugar la conciencia de clase está abierto al debate, aclaro que esto es un punto de vista propio, político y social, también agregar que este encargado durante la serie hace cosas que "moralmente" podríamos tomarlas como muy negativamente, cosas turbias, negocios bajo la mesa, que incluso en argentina luego de que salga la serie la agrupación de encargado mandaron una carta al estudio por lo gravemente insultados que se sintieron por la serie
Always talking about these issues is important, and from my place of class consciousness is open to debate, I clarify that this is my own point of view, political and social, also add that this manager during the series does things that "morally" we could take them as very negatively, shady things, business under the table, that even in Argentina after the series came out the group of managers sent a letter to the studio for how seriously insulted they felt by the series.

No soy lector de este diario por amarillista, pero les dejo aqui para que lean la noticia:
I am not a reader of this newspaper because it is a tabloid, but I leave you here to read the news: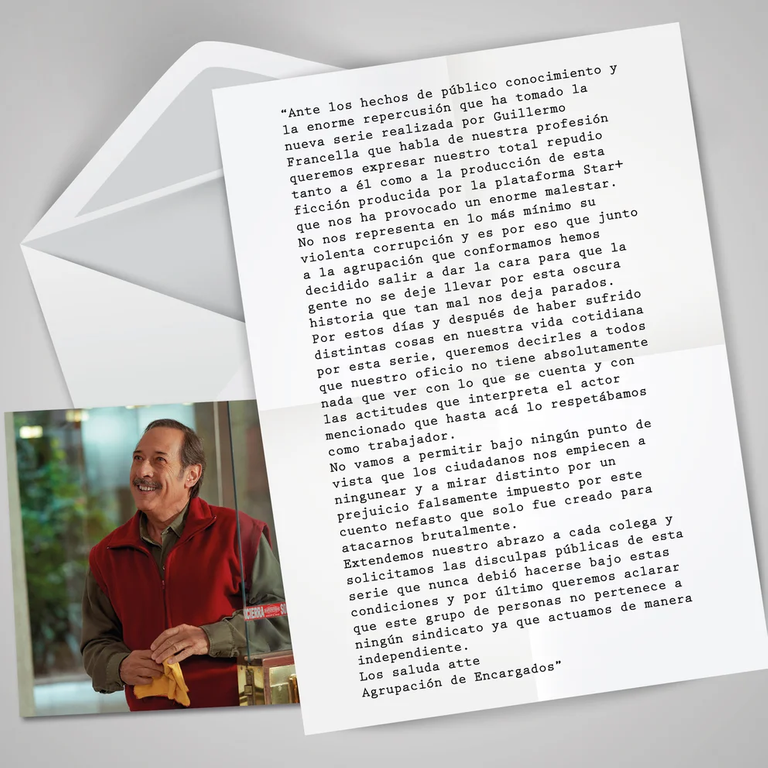 Source
"Faced with the facts of public knowledge and the enormous repercussion that has taken the new series made by Guillermo Francella that talks about our profession we want to express our total repudiation both to him and to the production of this fiction produced by the platform star+ that has caused us an enormous discomfort (...).
https://www.infobae.com/virales/2022/11/02/la-serie-el-encargado-enfurecio-a-una-agrupacion-de-trabajadores-del-sector/
Un punto de vista bastante exagerado, ya que siendo ficción no podemos generalizar todos los temas, lo mismo con la policía (que hay miles de películas de policías que son corruptos) también politicos o como en esta serie también entra al sindicalismo (un personaje muy específico) que si ven la serie ven que algo de perversión podemos ver
A rather exaggerated point of view, since being fiction we can't generalize all the topics, the same with the police (there are thousands of films about corrupt policemen) also politicians or as in this series also enters the trade unionism (a very specific character) that if you see the series you can see that we can see some perversion.

Aqui viene un tema que sucede en Argentina hace años, el negocio inmobiliario, hay edificios completos que están desocupados para jugar con el mercado mismo inmobiliarios cuando los alquileres están muy caros para lo que podría ser un sueldo básico aquí en este país, al mismo tiempo nos muestran otra clase social que no tiene inconvenientes en su vida cotidiana con la economía, o dentro de nuestros parámetros no logramos ver algún problema al respecto. Muestra muchas formas de ver las situaciones, al respecto de una pileta y con lo que significa la expulsión del encargado para traer una empresa que terciariza a los trabajadores por que suelen ser más baratos (quitando muchísimo más el plusvalor del empleado) en estas circunstancias
Here comes a subject that has been going on in Argentina for years, the real estate business, there are entire buildings that are unoccupied to play with the real estate market itself when the rents are very expensive for what could be a basic salary here in this country, at the same time they show us another social class that has no problems in their daily lives with the economy, or within our parameters we do not manage to see any problem in this respect. It shows many ways of looking at situations, with respect to a swimming pool and with what it means to expel the manager to bring in a company that outsources workers because they are usually cheaper (taking away a lot more of the employee's surplus value) in these circumstances.

Es un trabajo algo sacrificado, estas casi 24/7 en un edificio que no es tuyo, sin embargo, lo toma como propio y de su trabajo porque si hablamos en términos de "La tierra es de quien la trabaja" podríamos decir que el funcionamiento del mismo es gracias al encargado, sin anular los negocios turbios que el mismo realiza ahí
It's a somewhat sacrificial job, you are almost 24/7 in a building that is not yours, however, he takes it as his own and his work because if we talk in terms of "The land belongs to those who work it" we could say that the operation of the building is thanks to the manager, without annulling the shady business that he carries out there.
Nos invita a pensar sobre las prioridades de cada quien, que es lo que uno busca en la vida y como las decisiones que tomamos pueden afectar muy duramente al otro, creo que toda discusión es política, y creo que lo mejor en estos casos es valorar el esfuerzo que uno hace, la plata no vale más que una vida, para el encargado se ve que ese edificio y sus inquilinos es muy importante y hace todo lo posible para ser de su utilidad una cierta necesidad ahí adentro, cosa que quizá con el dinero se podría resolver de otra manera, despreocupa cuando alguien este ahí dispuesto a hacerlo
It invites us to think about the priorities of each one of us, what we are looking for in life and how the decisions we make can affect the other person very hard, I think that all discussion is political, and I think that the best thing in these cases is to value the effort that one makes, money is not worth more than a life, for the person in charge it is seen that this building and its tenants is very important and does everything possible to be of use to a certain need in there, something that perhaps with money could be solved in another way, do not worry when someone is willing to do it.

Me tomo el atrevimiento de tomar un video de facebook de un programa argentino muy conocido y que habla Leandro Santoro, un politico con una oratoria muy buena sobre discursos politicos, está en español, pero se los traduciré para los que no entienden el idioma español, el video se los dejare también aqui abajo:
I am taking the liberty of taking a video from facebook of a very well known argentinian program that is spoken by Leandro Santoro, a politician with a very good oratory about political speeches, it is in spanish, but I will translate it for those who do not understand spanish language, I will leave the video here below as well:
Source link video
-The "puma" is the orthodox administrator making an adjustment, as he has to make an adjustment he has to build consensus within the consortium to be able to remove the manager who represents something else for many people.
-He is making an adjustment to do something else.
-To build a swimming pool and hire an outsourced company that is cheaper, and well
There is a whole discussion about whether the pool or the human being is more important and how he builds consensus and how the manager builds consensus to stop the adjustment.
Estos primeros 30 segundos dejan mucho en que pensar
These first 30 seconds leave much food for thought

Me gustaría que puedan ver la serie, mucha política y debate social abre este tipo de series que dan en las charlas cotidianas algo más para sobre pensar los actos y hechos sociales, no podemos seguir permitiendo que siempre la plata este arriba de la vida de las personas. espero que mi punto de vista sobre esta gran serie que me gustó mucho les haya gustado o entre en un debate que estaría encantado de seguir en los comentarios, muchas gracias a
@cinetv
por el espacio que brinda en su comunidad y dejar que dejemos aquí series, películas y más que nos guste, un saludo a todos y espero que les sea de su agrado❤️
I would like you to watch the series, a lot of politics and social debate opens this type of series that give in the daily talks something more to think about the acts and social facts, we can not continue to allow that always the money is above the lives of people. I hope that my point of view on this great series that I liked a lot you liked or enter into a debate that I would be happy to follow in the comments, thank you very much to
@cinetv
for the space that provides in your community and let us leave here series, movies and more that we like, greetings to all and I hope you like it❤️
---
Pueden ver la serie en la siguiente plataforma (no es publicidad)
You can watch the series on the following platform (not advertising)
---


ydaiznfts#1000 El club de Rising Star

El club de Rising Star

Twitter

Reddit
Thanks for reading, huge hug from ydaiz⭐

---
---