[FR-ENG] SOUL (Disney / Pixar - 2020)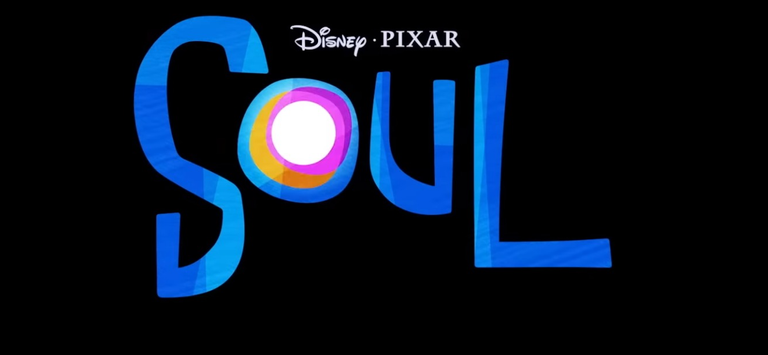 [ENG]
Good evening everyone. Last night I was looking for a film to watch that wasn't too challenging. I therefore opted for a film from the Disney+ catalogue and was intrigued by the trailer for Soul.
Soul is a Pixar film written and directed by Pete Docter (former creator of 'Inside Out' and 'Up').
It tells the story of Joe Gardner, a middle school band director, who dreams of becoming a jazz musician. After 20 years of trying, his big chance to realise his dream and play for the great musician Dorothea Williams (Angela Bassett) finally arrives, but our protagonist falls into a manhole and dies prematurely. This is not how one would expect the opening of a children's cartoon to go - not even Bambi or The Lion King had gone so far as to kill off the protagonist before the opening credits.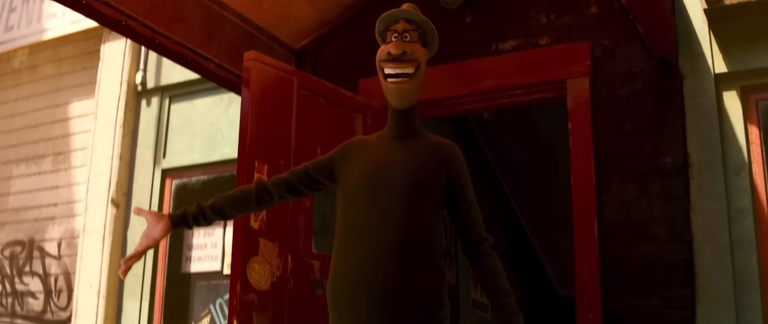 Yet that's what happens to Joe who, separated from his body, finds himself in the other world but, instead of going towards the light (the Great After), he escapes and is catapulted into the Great Before. The Great Before is where souls are formed, before they are born. It is where personalities are born, where souls find their life's passion, the 'spark' that allows them to get a pass to Earth and be born.
In the Great Before, souls are assisted by the Jerries, incarnations of the spirit of the universe, guardians who seem to have stepped out of a Picasso painting. The Jerries mistake Joe for a luminary of psychology and assign him the task of mentoring 22 (Tina Fey), a soul who has yet to find her spark and has no desire to be born. Convinced he knows his purpose and determined to return to his life to fulfil his dream, Joe will help 22 find his reason for living and, in doing so, also discover the meaning of his own existence.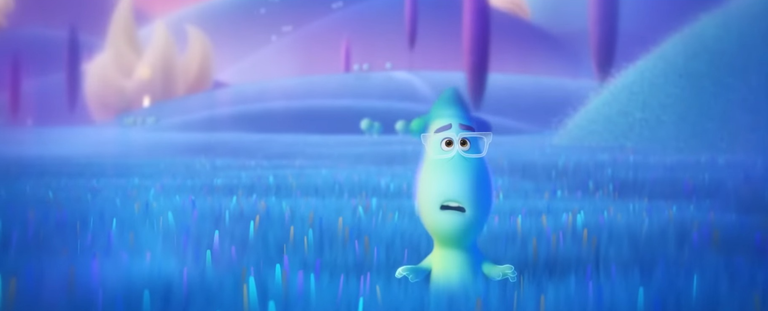 The film review
Where do we come from? What is there after death? How are personalities born and what is the soul made of? These are the questions that inspire Soul, which, picking up the moral legacy of Inside Out, offers a bold and luminous explanation to the mystery of life. The result is a quirky, harmonious and boldly metaphysical drama that entertains children but speaks to adults.
The film is set in the ethereal, fairy-tale netherworld, mirrored by a warm and beautiful New York, inhabited by realistic, mostly African-American characters.
At first glance, Soul seems to have the traditional layout of a classic animated film: the protagonist, frustrated and unhappy, finally has a chance to redeem his mediocre existence and realise his dream. An accident stands between him and his goal, but death will not be enough to stop Joe from realising what he is convinced is the meaning of his existence and the only thing that can make him happy. But is it really? Will becoming a successful musician make him happy, help him fulfil his existence?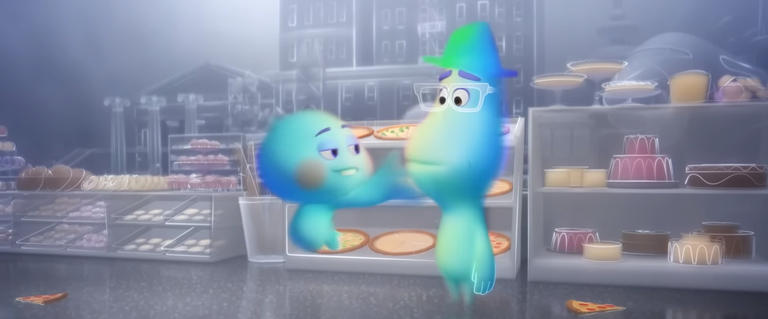 Soul is an animation product that does not hold back when it comes to confronting the viewer with complicated questions - questions that are certainly not directed at a very young audience. With its colours and metaphors, the film speaks to adult souls, confronting them with the ever-present questions about the meaning of life, happiness and the purpose of existence. Even the funny gags with the mentors of 22 (including Mother Teresa, Jung, Gandhi, Lincoln) are hilarious but not easy for children to understand.
Rather than concealing a double key, the film seems in fact to address adults directly, as if to remind us of the importance of the spiritual dimension.
The spark has nothing to do with purpose, which is often a cage, it is something that makes one obsessive, that constrains. The spark is meaning, it is freedom, even to betray the purpose of life. It thus emerges that purpose is not meaning, and that when the souls of the Old World are ready to incarnate in earthly matter, it does not mean that they have found their purpose in life, but rather that the spark has been instilled in them that ignites the flame of existence.
The spark is like a 'call' to life, it is life itself that insinuates itself within us and urges us to see and feel reality as it is given to consciousness.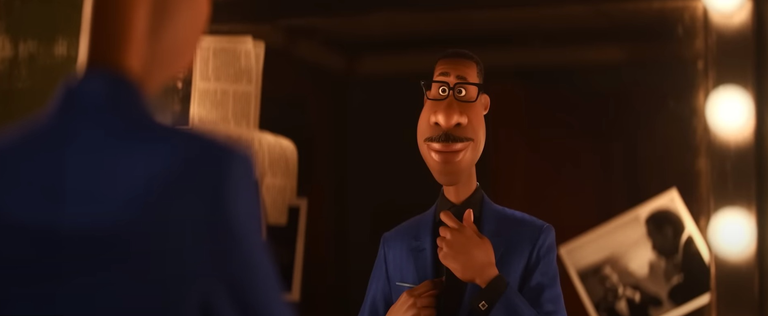 From Disney Pixar's film, Soul, emerges the idea that life therefore has no meaning in itself. We are horrified by the idea of being thrown into the world without a purpose, and so we convince ourselves that the meaning is somewhere and we take it upon ourselves to find it at any cost: perhaps by rediscovering a talent we had cultivated as children, or by being passionate about something new that can amaze and surprise us again. The worst case scenario is to spend one's existence ignoring the problem for fear of realising that perhaps that meaning is not there.
The meaning of life is not to be found outside our consciousness, but is to be found within it and therefore invented. The sense of being of each one of us is not there until we bring it to light by ceasing to search for a pre-existing one and employing all our energies to give new meanings.
The beauty of human existence is not based on the realisation of a passion or an innate talent to be pursued (sometimes even obsessively if one wants to achieve fame or fortune). The wonder of existence can be found in a small, almost invisible action, which can however suddenly enlighten us - this seems to be the concluding message of Soul and Disney Pixar.
The film is thus an intense exhortation to rise up from the everyday troubles but also from the passions that consume the soul, urging the viewer to get back in touch with his or her own self and, quite simply, to live. And, on the other hand, is this not where the meaning of life lies?
---
The photos have been taken from individual images from the trailer, available for free on YouTube or other sites.
---
[FR]
Bonsoir à tous. Hier soir, je cherchais un film à regarder qui ne soit pas trop difficile. J'ai donc opté pour un film du catalogue Disney+ et j'ai été intriguée par la bande-annonce de Soul.
Soul est un film Pixar écrit et réalisé par Pete Docter (ancien créateur de Inside Out et Up).
Il raconte l'histoire de Joe Gardner, directeur de l'orchestre d'un lycée, qui rêve de devenir musicien de jazz. Après 20 ans d'efforts, il a enfin l'occasion de réaliser son rêve et de jouer pour la grande musicienne Dorothea Williams (Angela Bassett), mais notre protagoniste tombe dans une bouche d'égout et meurt prématurément. Ce n'est pas ainsi que l'on s'attendrait à ce que l'ouverture d'un dessin animé pour enfants se déroule - même Bambi ou Le Roi Lion n'étaient pas allés jusqu'à tuer le protagoniste avant le générique de début.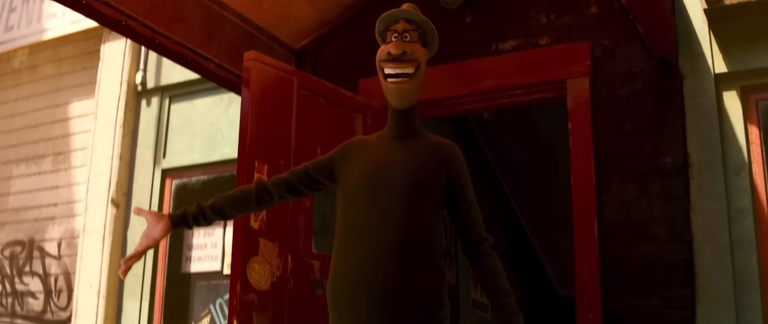 C'est pourtant ce qui arrive à Joe qui, séparé de son corps, se retrouve dans l'autre monde mais, au lieu d'aller vers la lumière (le Grand Après), il s'échappe et est catapulté dans le Grand Avant. Le Grand Avant est le lieu où se forment les âmes, avant qu'elles ne naissent. C'est là que naissent les personnalités, que les âmes trouvent la passion de leur vie, l'étincelle qui leur permet d'obtenir un laissez-passer pour la Terre et de naître.
Dans Le Grand Avant, les âmes sont assistées par les Michels, incarnations de l'esprit de l'univers, des gardiens qui semblent sortis d'un tableau de Picasso. Les Michels prennent Joe pour une sommité de la psychologie et lui confient la tâche d'encadrer 22 (Tina Fey), une âme qui n'a pas encore trouvé son étincelle et n'a aucun désir de naître. Convaincu de connaître sa raison d'être et déterminé à revenir dans sa vie pour réaliser son rêve, Joe va aider 22 à trouver sa raison de vivre et, ce faisant, à découvrir le sens de sa propre existence.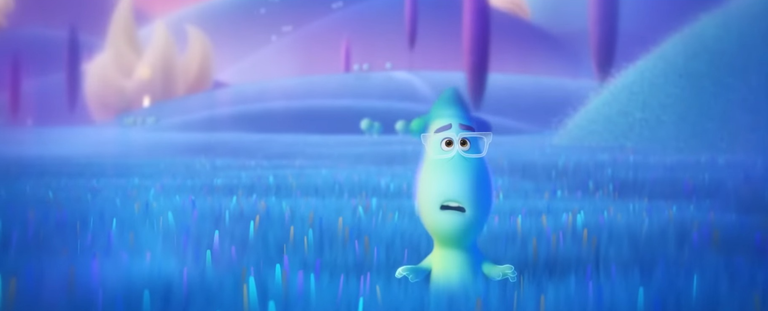 La revue du film
D'où venons-nous ? Qu'y a-t-il après la mort ? Comment naissent les personnalités et de quoi est faite l'âme ? Telles sont les questions qui inspirent Soul, qui, reprenant l'héritage moral d'Inside Out, propose une explication audacieuse et lumineuse du mystère de la vie. Le résultat est un drame excentrique, harmonieux et audacieusement métaphysique qui amuse les enfants mais parle aux adultes.
Le film se déroule dans un monde souterrain éthéré et féerique, auquel fait écho un New York chaleureux et magnifique, habité par des personnages réalistes, pour la plupart afro-américains. À première vue, Soul semble présenter le schéma traditionnel d'un film d'animation classique : le protagoniste, frustré et malheureux, a enfin une chance de racheter son existence médiocre et de réaliser son rêve. Un accident se dresse entre lui et son objectif, mais la mort ne suffira pas à empêcher Joe de réaliser ce qu'il est convaincu d'être le sens de son existence et la seule chose qui puisse le rendre heureux. Mais est-ce vraiment le cas ? Devenir un musicien à succès le rendra-t-il heureux, l'aidera-t-il à accomplir son existence ?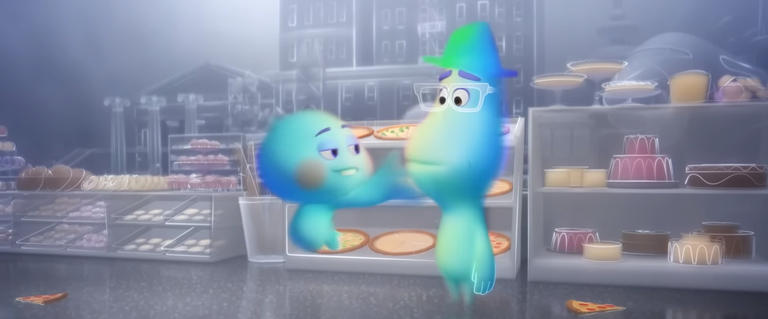 Soul est un produit d'animation qui n'hésite pas à confronter le spectateur à des questions complexes - des questions qui ne s'adressent certainement pas à un public très jeune. Avec ses couleurs et ses métaphores, le film s'adresse aux âmes adultes et les confronte aux éternelles questions sur le sens de la vie, le bonheur et le but de l'existence. Même les gags amusants avec les mentors de 22 ans (dont Mère Teresa, Jung, Gandhi, Lincoln) sont hilarants mais pas faciles à comprendre pour les enfants.
Plutôt que de dissimuler une double clé, le film semble en fait s'adresser directement aux adultes, comme pour nous rappeler l'importance de la dimension spirituelle.
L'étincelle n'a rien à voir avec le but, qui est souvent une cage, quelque chose qui rend obsessionnel, qui contraint. L'étincelle, c'est le sens, c'est la liberté, même de trahir le but de la vie. Il apparaît donc que le but n'est pas le sens, et que lorsque les âmes de l'Ancien Monde sont prêtes à s'incarner dans la matière terrestre, cela ne signifie pas qu'elles ont trouvé leur but dans la vie, mais plutôt que l'étincelle qui allume la flamme de l'existence a été instillée en elles.
L'étincelle est comme un "appel" à la vie, c'est la vie elle-même qui s'insinue en nous et nous pousse à voir et à sentir la réalité telle qu'elle est donnée à la conscience.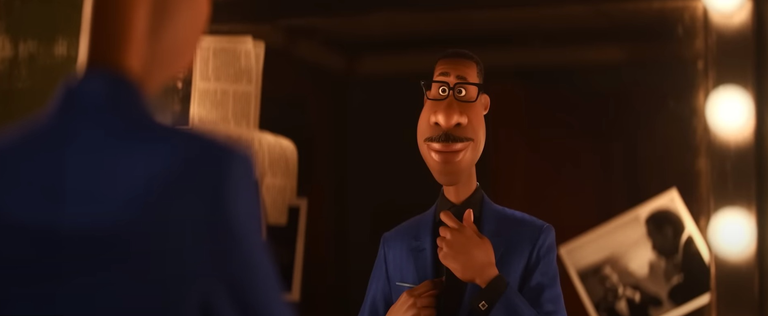 Dans le film de Disney Pixar, Soul, émerge l'idée que la vie n'a pas de sens en soi. Nous sommes horrifiés par l'idée d'être jetés dans le monde sans but, et nous nous convainquons donc que le sens est quelque part et nous prenons sur nous de le trouver à tout prix : peut-être en redécouvrant un talent que nous avions cultivé dans notre enfance, ou en nous passionnant pour quelque chose de nouveau qui peut nous émerveiller et nous surprendre à nouveau. Le pire scénario est de passer son existence à ignorer le problème de peur de se rendre compte que le sens n'est peut-être pas là.
Le sens de la vie ne se trouve pas à l'extérieur de notre conscience, mais en son sein et donc inventé. Le sens de l'être de chacun d'entre nous n'existe pas tant que nous ne le mettons pas en lumière en cessant de chercher un sens préexistant et en employant toutes nos énergies à donner de nouvelles significations.
La beauté de l'existence humaine ne repose pas sur la réalisation d'une passion ou d'un talent inné à poursuivre (parfois même de manière obsessionnelle si l'on veut atteindre la célébrité ou la fortune). La merveille de l'existence se trouve dans une petite action, presque invisible, qui peut pourtant nous éclairer soudainement - tel semble être le message de conclusion de Soul et Disney Pixar.
Le film est ainsi une intense exhortation à se relever des tracas quotidiens mais aussi des passions qui consument l'âme, poussant le spectateur à reprendre contact avec lui-même et, tout simplement, à vivre. Et, d'ailleurs, n'est-ce pas là que se trouve le sens de la vie ?
---
Les photos ont été prises à partir d'images individuelle du trailer, disponibles gratuitement sur YouTube ou d'autres sites.
---
---
---