Planetside 2 with Pizza Gaming Guild 🎮🕹️💥🔫 & Movie Night Weekend with PIZZA🎬🎥🍿 Little Shop of Horrors 🌹🍴👻 Jack Nicholson red herring with a Man eating plant! 🌹🍴👻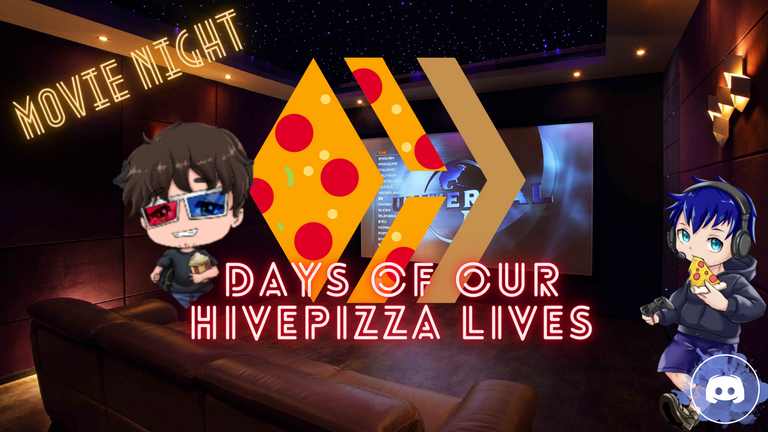 It's actually not just Movie Night today, but also Games Night aka "Planetside 2 with the Za Battalion" as PIZZA Guild is now known as ingame. 🕹️🎮👾
We also have some "Music Exploration and History" (as I'd like to call it, do let me know if there's a better sounding title for this 🤣) by @creodas - something I realise is happening quite frequently nowadays, but isn't an official event as of yet. 🎤🎼🎵🎶
However, seeing as Movie Night is held only once every 2 weeks now, I think it's only right that I make it the main focus on my Pizza Roundup today. 😜
As always, Pizza Movie screenings will only screen PUBLIC DOMAIN movies. As PIZZA gains more crowds and visibility, we have to ensure that no laws are broken which would compromise the entire project. However, I wouldn't be too concerned as there're still lots of classics to enjoy, as we delve further back into movie history! 🍿🎬🎥🍕🍕🍕
---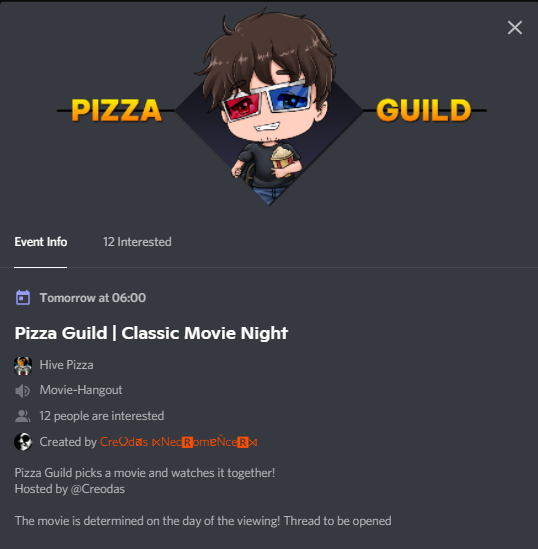 ---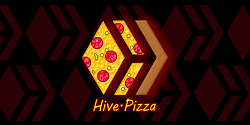 CLICK THIS LINK TO JOIN PIZZA DISCORD!!!
Never fear! Catch up on what you've missed with my brief (and hopefully entertaining) updates on the ins and outs of the PIZZA DISCORD🎉🥳🎊
As a BIG FAN of 🍕PIZZA🍕, I always suggest joining PIZZA DISCORD if you need a quick pickmeup. 👍 It's a friendly and helpful community with regular EVENTS, AIRDROPS of various crypto tokens, discussions of several GAMES on HIVE (Splinterlands, Rising Star, HashKings, Exode, WOO, BangDefense...), MUSIC, ART, and even bits of FINANCE ... well I think you get the idea 😄


🎼🎶🎮🕹️Music and Games🎼🎶🎮🕹️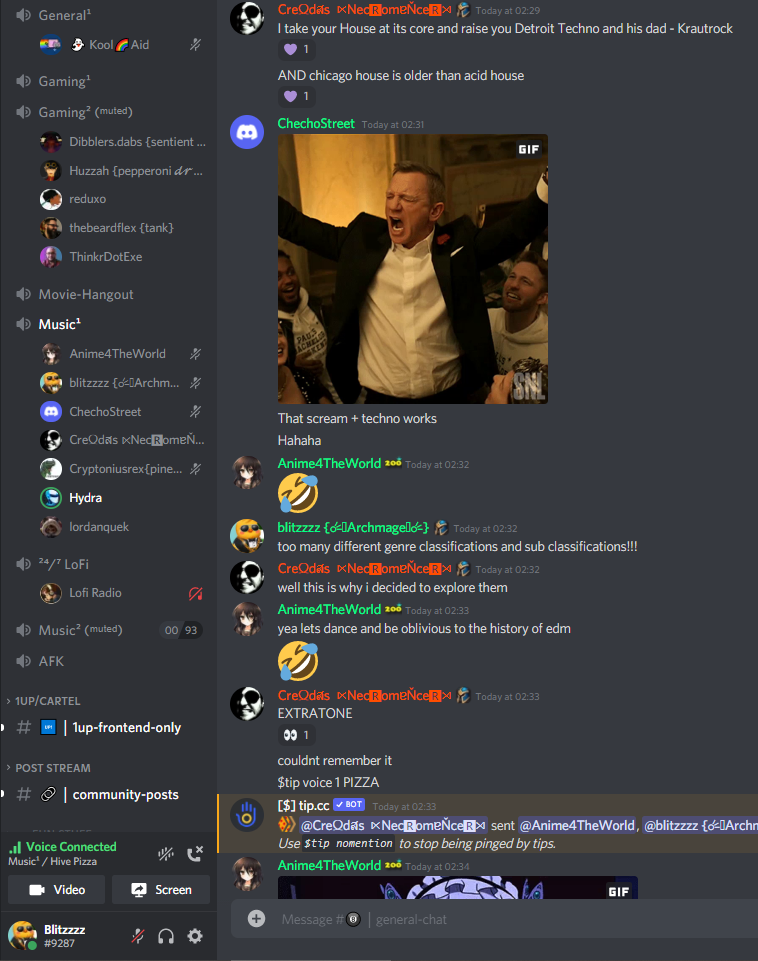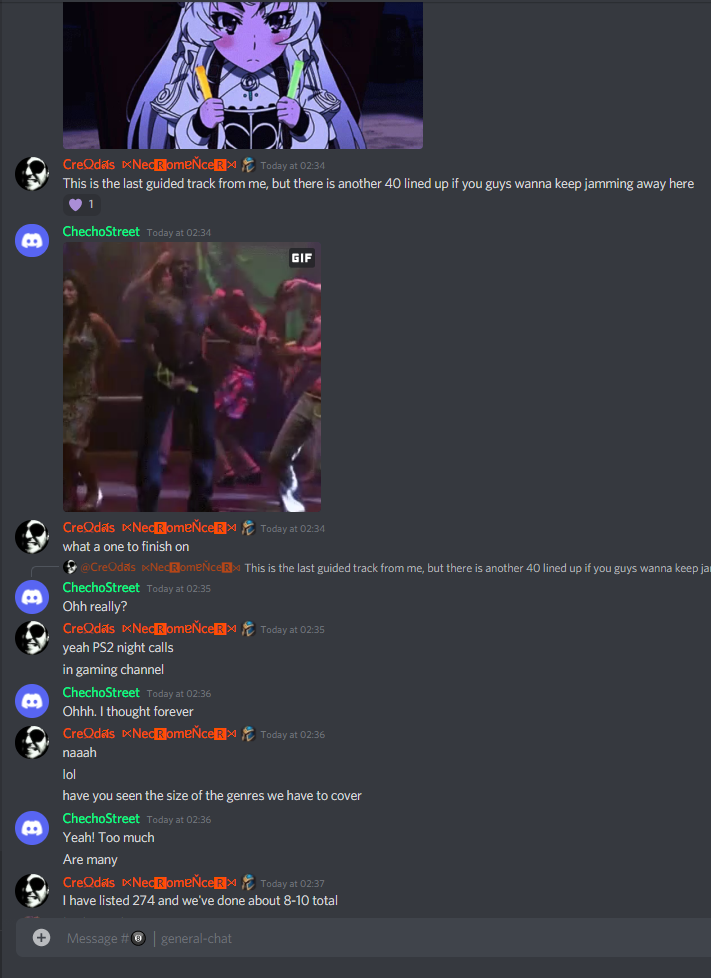 As I've mentioned, something that has been happening semi-frequently is @creodas hosting what I would call a "music session with him giving some background information" behind the tracks that are played.
I'll admit that to my unlearned ears, I can't really tell the difference, but perhaps that'll change in time. It's usually a rather limited audience seeing as it seems (to me) to be done on an impromptu basis. I do find it rather interesting though, although I usually hop in when I'm busy with some work and want some "company" to stay awake. 😁
Perhaps a full fledged event is in the making over here? Who knows? We seem to have a good deal of music fans here in PIZZA after all. 🎤🎼🎵🎶
---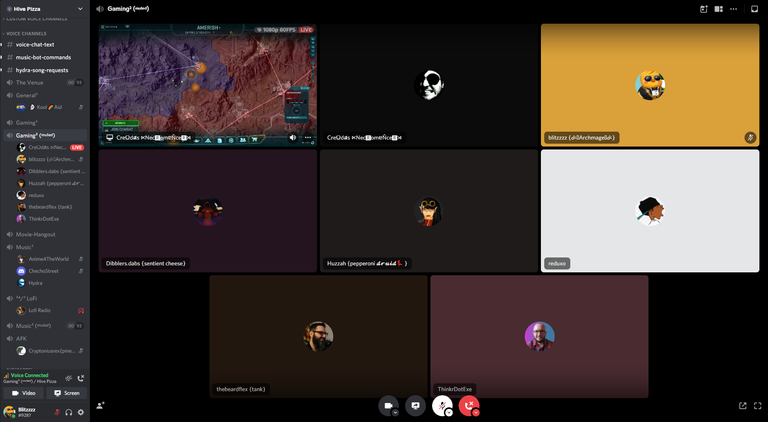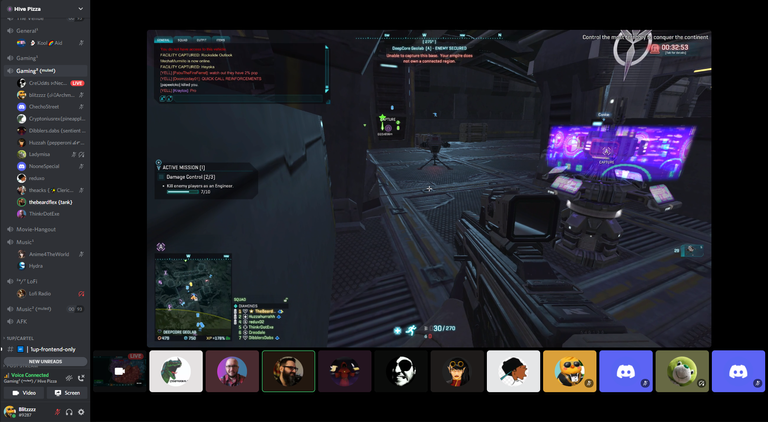 After Creodas's music session, we moved on to Gaming with PIZZA Guild. As always, PIZZA is making inroads into their progress with the Za Battalion in Planetside 2. If you're a regular gamer interested in this game (or any game for that matter), feel free to hit up with PIZZA to join in the battles! 🕹️🎮👾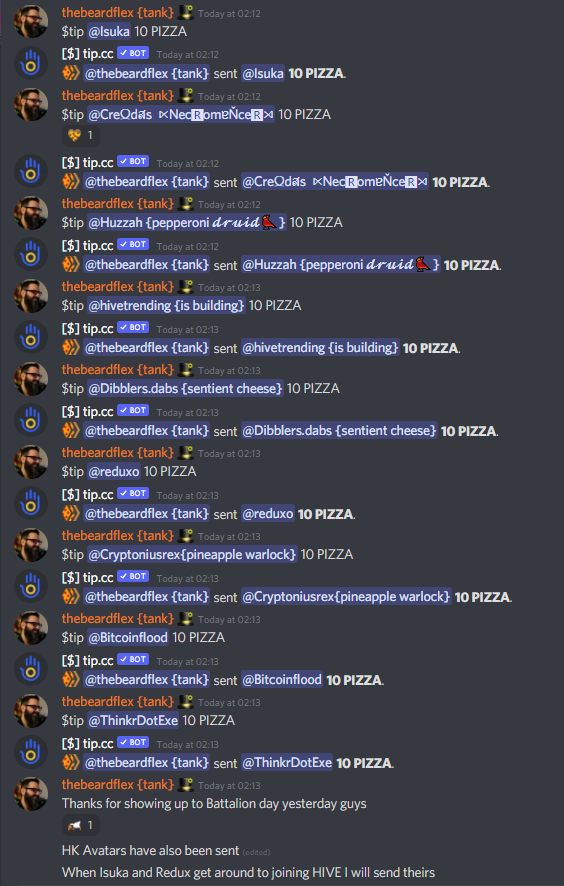 @thebeardflex @creodas @huzzah @hivetrending @dibblers.dabs @cryptoniusrex @bitcoinflood @thinkrdotexe are some of the regular Planetside members of the Za Battalion. 🎮🕹️
What's also impressive is that part of the aim of playing mainstream games like these are trying to onboard non-HIVE users into the blockchain via PIZZA (which is one of PIZZA's aims too btw 😉).
From the list of people who were battling in Planetside with PIZZA, I noticed that we have already made some inroads into that aspiration with players like Isuka and Reduxo. 😱🥳👍🏻
The gaming market is huge and it's an under-tapped source of people that can be introduced to PIZZA/HIVE/Crypto in general. One would think that given gaming's link with technology that there would be a huge correlation between crypto adopters and gaming, however, this is far from being so. 🎮🕹️🌐💰
---
While we're on the topic of games though, I'll like to give a shoutout to @rentmoney and his LINK to $110USD worth of CRYPTOSHOTS GIVEAWAY. Check it out if you're interested in this promising project.
---

🍿🎬🎥MOVIE NIGHT🍿🎬🎥

Every weekend, PIZZA hosts a Movie Night for anyone interested to join in. Makes for a good bonding session or even a random movie to pick up if you're one of those who can't choose from the plethora of choices out there! 🤣
And the winner with the most VOTES for today's MOVIE NIGHT is....
🌹🍴👻The Little Shop of Horrors🌹🍴👻
I was seriously considering The Woman in Green though, being a mystery show about Sherlock Holmes. But once again, upon seeing yet another horror movie option, it was a no brainer which was going to get my vote. 🤣😜 What can I say? I love a good scare! 👻👻👻
19 votes in total for the "horror" option. I think it's pretty clear that almost the entire PIZZA community are just horror fans. 👻👻👻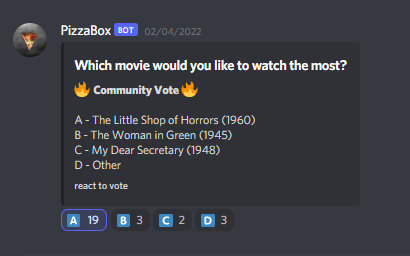 ---
Released in 1960, The Little Shop of Horrors, directed by Roger Corman and written by Charles B. Griffith, is considered one of the horror classics and is a highly rated cult favourite. It was shot on a pretty low budget of just $28,000 back then (which is still very low by today's standards) and slowly gained a cult following after being released as a B movie.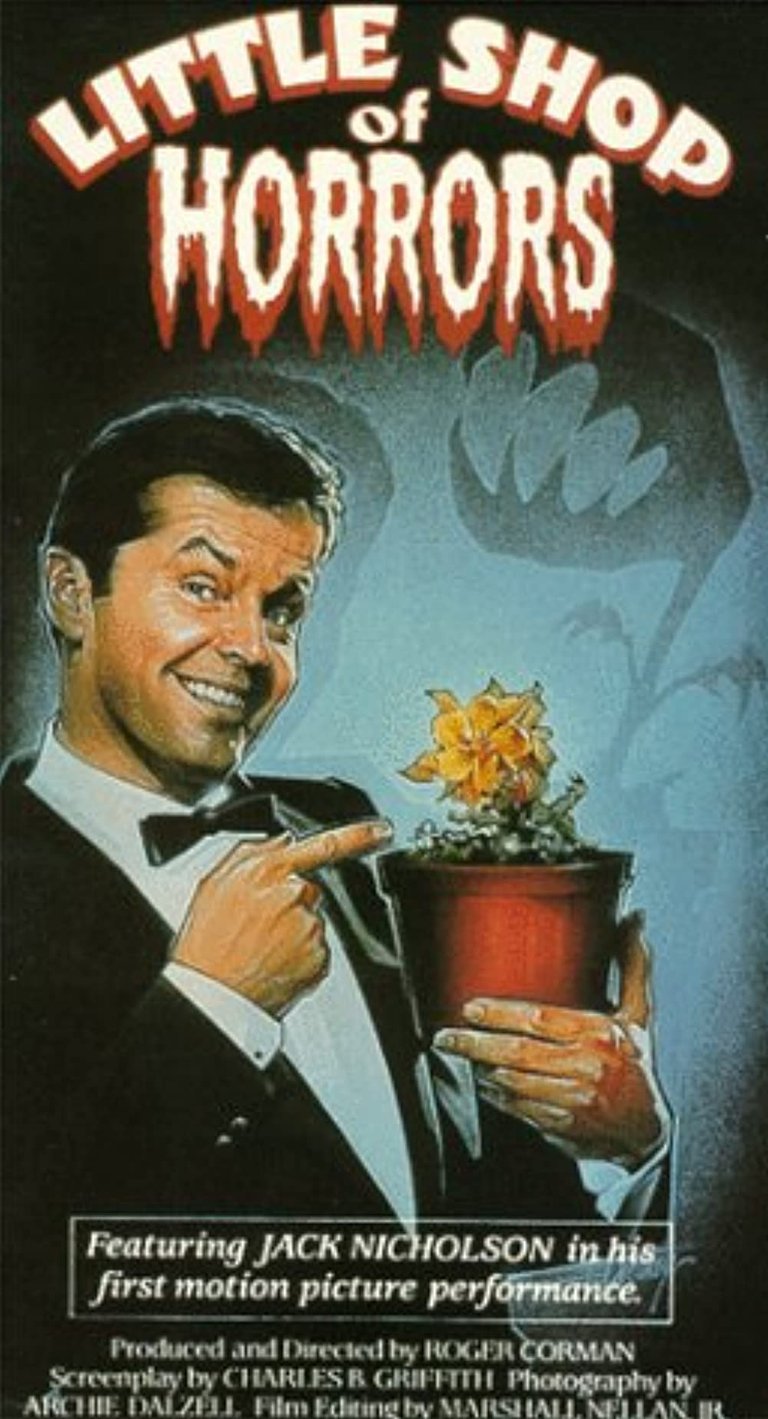 Another interesting thing to note is that a young Jack Nicolson was making his breakout role playing a minor character that made a short appearance in the film. In fact, because of Jack Nicolson's eventual rise to superstardom, the home video releases of the film prominently promoted him instead 🤣.
Take this cover which shows Jack Nicholson holding the infant plant from the 1986 film (yes they rebooted it too 😉), smiling and pointing at it. However, Jack Nicholson never even sees the plant in the original film (not to mention hold it), and the 1986 plant is obviously completely different from the one in the 1960 film.
Talk about capitalising on one's fame indeed 😜. If I were to buy this video based on the cover which exclaims "FEATURING JACK NICHOLSON IN HIS FIRST MOTION PICTURE PERFORMANCE", I would have felt really cheated instead. 😤😤😤
---
Well, here's a more accurate poster of the film and it's main characters. 😁

💡🎥🎬Lights! Camera! Action!💡🎥🎬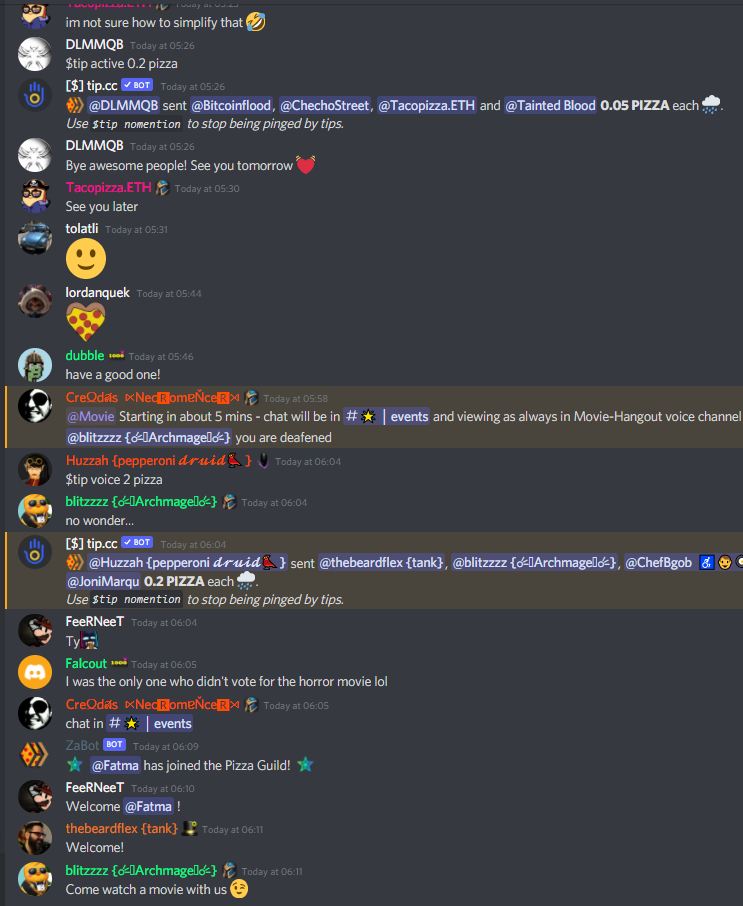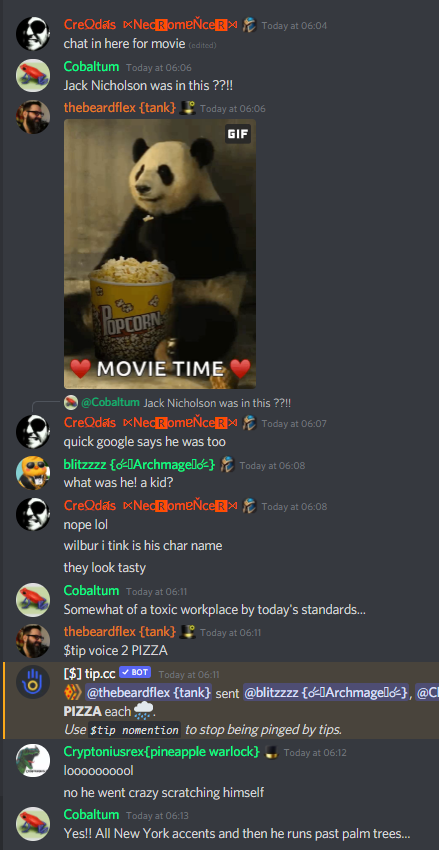 ---
@falcout being revealed as the only person who didn't vote for the horror movie 🤣. Sorry man... if it was just a few voters and if my vote change could do something, I wouldn't have minded changing my vote to The Woman in Green 😉. As it was, 19 votes in favour makes the horror option the overwhelming majority.
And yup, I choose the movie without knowing anything about Jack Nicholson being in it. In fact, I'm pretty sure a great deal of people were not aware of this too. 😱🤯
---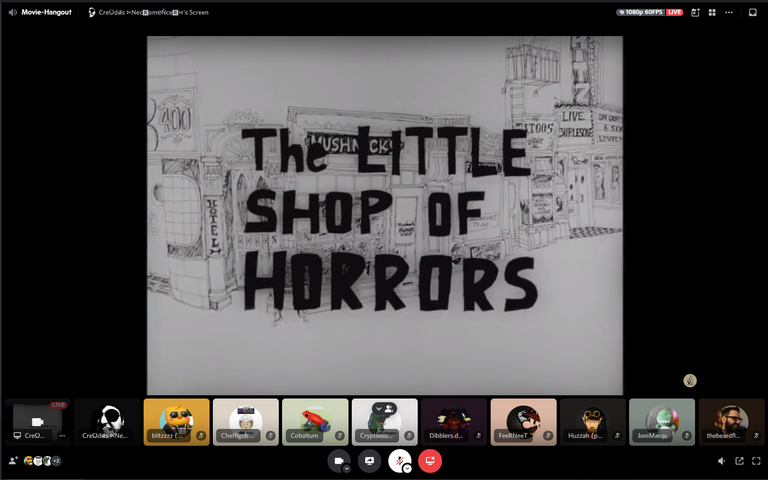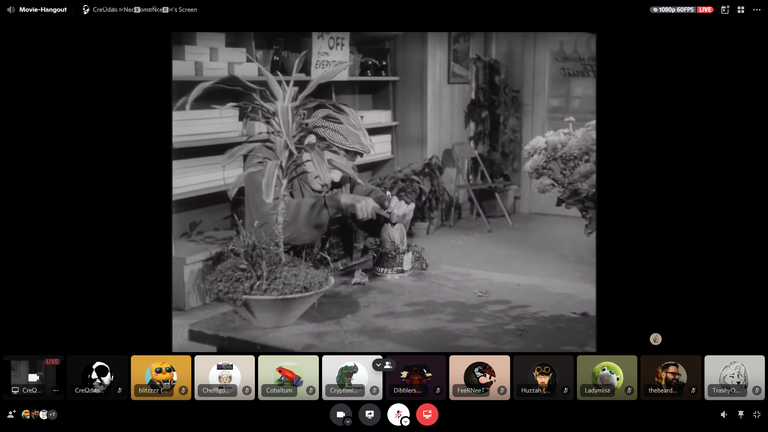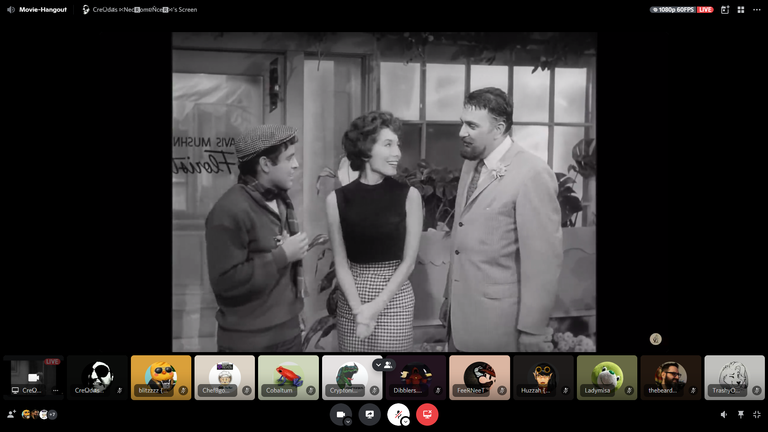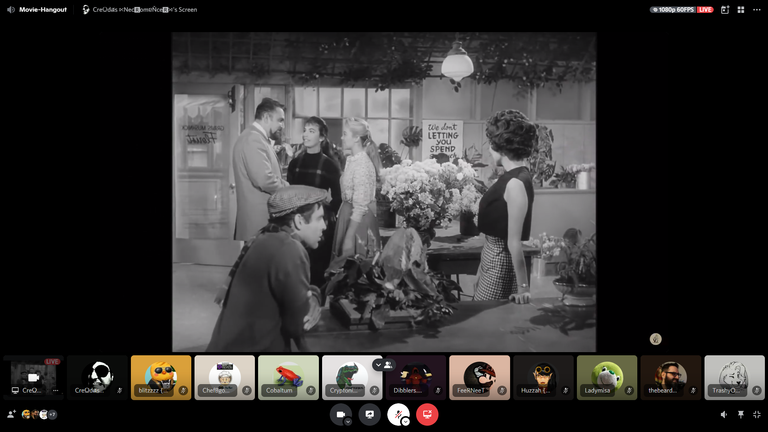 The main character of the story is a florist assistant, Seymour (Jonathan Haze), who has gotten his hands on a plant of dubious origins. Upon realising that the plant thrives on his blood and begins to grow and even gain sentience, the store gains huge popularity as crowds throng to view the unique plant. As horror stories go, this obviously leads to humans being killed and fed to the plant, and no surprise here when the plant turns on it's owner 😉🔪🩸
This is obviously a really brief 1 minute overview of the entire movie condensed by myself into a few sentences. So do feel free to watch it by yourself to appreciate the entire movie. It can be watched for free on Youtube, being a public domain movie and all.
You'll appreciate the classic days of movie making whereby there wasn't an entire army of computer programmers churning out digital images against a greenscreen. I'm really impressed with the ways and ideas the movie makers came up with for their special effects and props.

🎭All Good Things Must Come to an End🎭

Many Thanks to @creodas for hosting it yet again! 🥳🥳🥳
(And yes, what's the point of Jack Nicholson's character? Well clearly he made them a lot more money as a diversionary promo red herring 🤑💸🤣)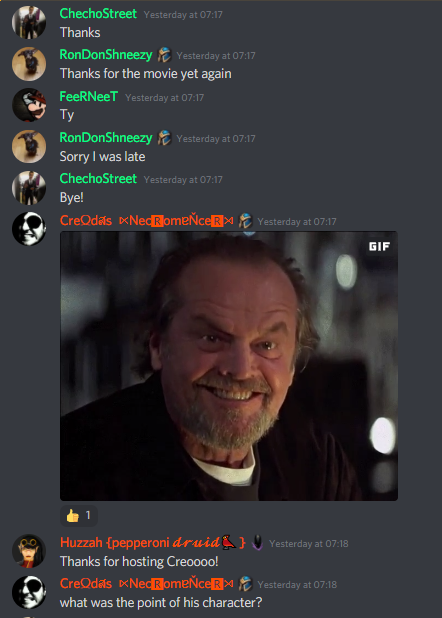 ---
And we'll end with this dream! (it isn't from today - but I believe that this is a good dream to build Pizza's Movie future on 🎬🎥🍿) I hope PIZZA succeeds with that too! 🚀🚀🚀


---
That's it for this episode of my PIZZA news. These are momentous times in PIZZA with a lot of plans forthcoming this year. In fact, I'd say that work on PIZZA is going at a breakneck pace! So don't miss out and come join PIZZA early to reap the benefits. I truly believe this is a multi-bagger project with amazing potential! 🍕🍕🍕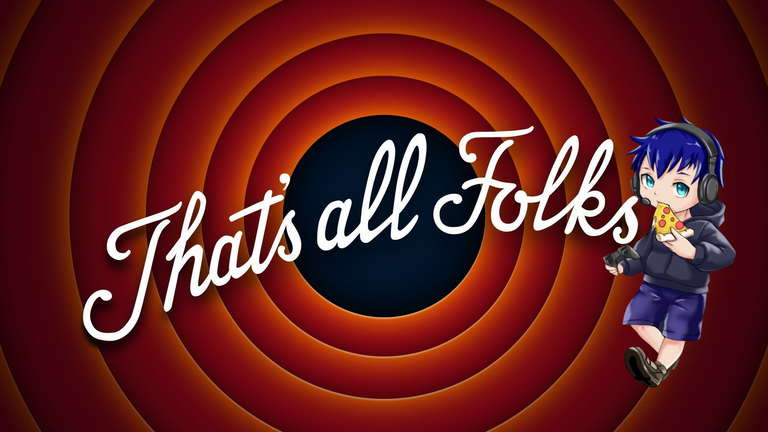 ✨✨✨This Week's Events✨✨✨


Over at PIZZA DISCORD, there are always loads of planned Events lined up (and even impromptu ones). The events listed here are localized to my Time Zone GMT +8. For the absolute latest updates, please check in the Pizza Discord.

---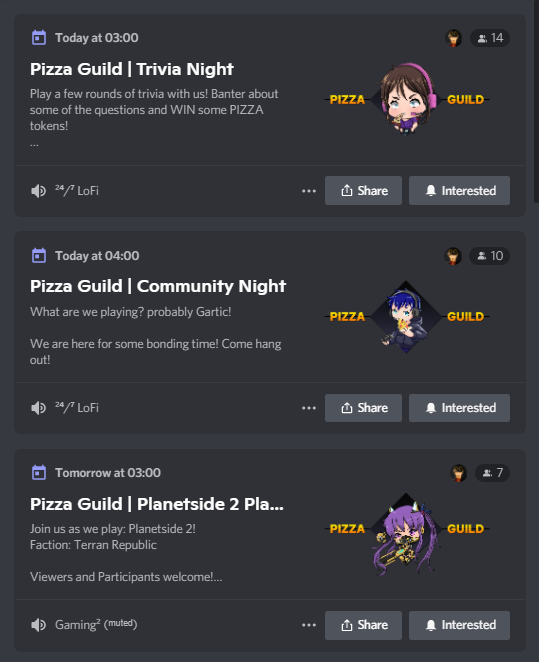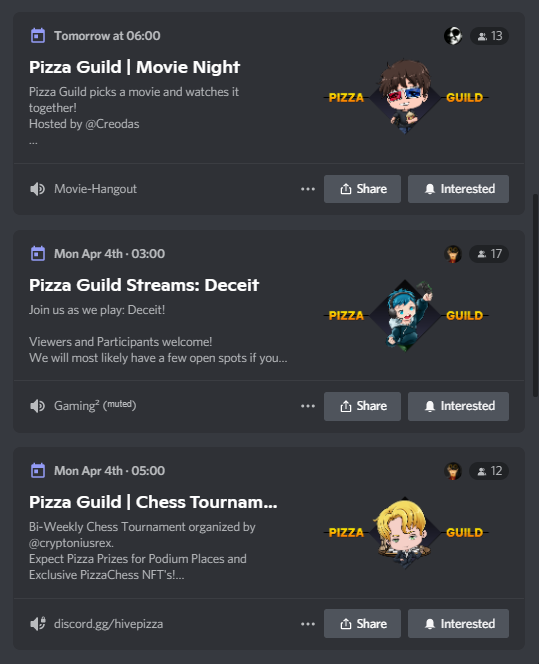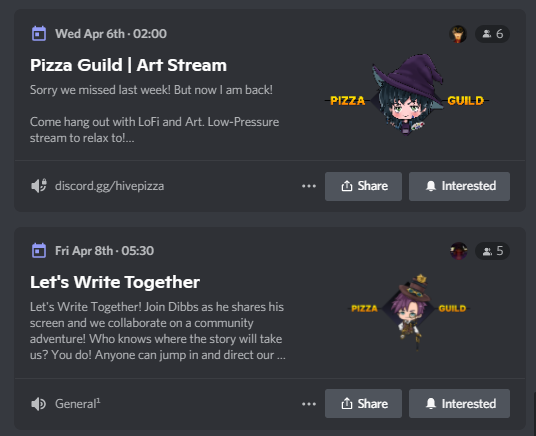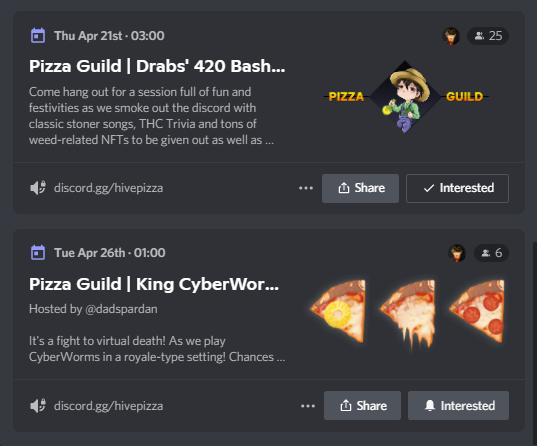 ---

🎁🎁🎁This Week's Contests & Giveaways🎁🎁🎁


A lot of FREE prizes up for grabs at the moment too! Don't miss out! 🎁🎁🎁💰💰💰 What are you waiting for? It's all here in the PIZZA DISCORD.
🤑💰🍕Added Bonus of PIZZA Token🤑💰🍕
-I will use my staked 🍕PIZZA🍕 to share a slice of 🍕PIZZA🍕 with anyone in the comments who also FOLLOWS & REBLOGS my post in the interests of spreading the Word of Pizza 🤣🤣🤣
-Just let me know if you've done that so I can double check and ensure I set aside some Resource Credits to reply back on your comments 👍
-Any fellow 🍕PIZZA🍕 connoisseurs who !PIZZA me will also receive 🍕PIZZA🍕 back from me. 😊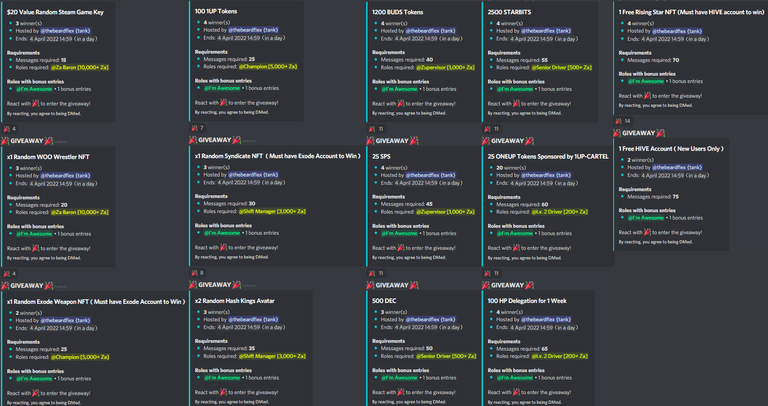 PIZZA is an active gaming and creative arts crypto community on the HIVE blockchain. Popular games on HIVE like SPLINTERLANDS, RISING STAR, EXODE, HASHKINGS, WOO, BANGDEFENSE have their own PIZZA communities here.



Don't miss out more events that are always being organised. Join the PIZZA DISCORD. Even if you aren't interested in the 💰🍕🎁GIVEAWAYS & AIRDROPS💰🍕🎁, there is a vibrant and friendly community there awaiting you.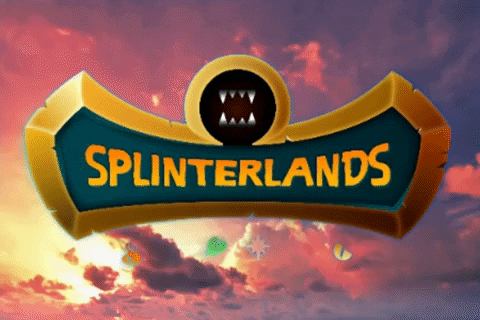 Here's to wishing everyone all the best for the upcoming week 🎉🍀.
To any new players who wish to explore the world of Splinterlands, do feel free to sign up with my REFERRAL LINK 😊.


---
---