REVIEW: Chucky: Season 2 (2021): He's back and better than ever.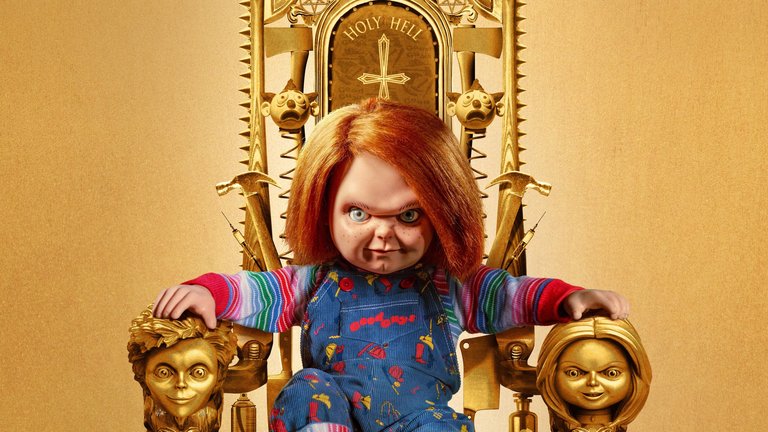 source
Chucky is the king apparently. I love the reference to the jack-in-the-box from the poster to Child's Play 2. That's a nice touch.
You can't keep a Good Guy down as they say especially if you're a killer doll. Chucky is back to deliver more kills and thrills from this iconic horror franchise on the small screen.
Tom Holland's original creation has been busy as usual especially considering how many versions of him are present in this season. You see he was cloned in the last season and there was an entire truck full of his doppelgangers when we last saw him in season 1.
This time we get to see some of his variations on screen as he's still going after our young protagonists in this latest outing. The setting is a Catholic reformatory school that provides a great scenario for riffing on religion while isolating the teens away from their family. This gives me a similar vibe in comparison to Child's Play 3 with their setting at a military school.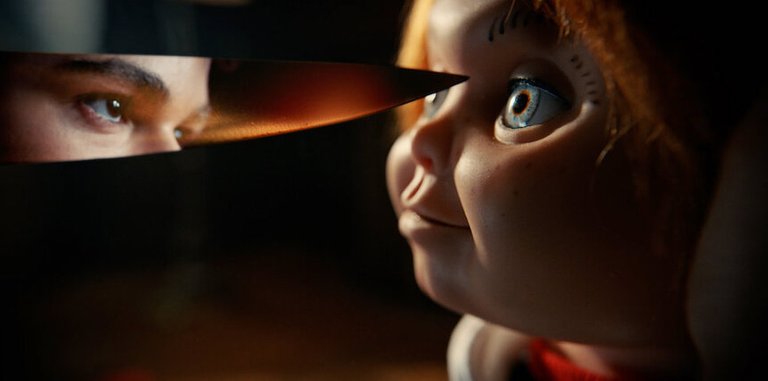 source
Is it just a doll or is he waiting for his chance to strike?
The characters from the Child's Play universe are aplenty here with some more making an appearance this time around. Devon Sawa plays a priest at the school that provides much of the friction between the two male leads. Jennifer Tilly as herself and Tiffany. Brad Dourif of course as the voice of Chucky along with his daughter Fiona playing Nica Pierce. Alex Vincent, the original kid from the first film is back along with Christine Elise, Andy's unofficial protector from Child's Play 2.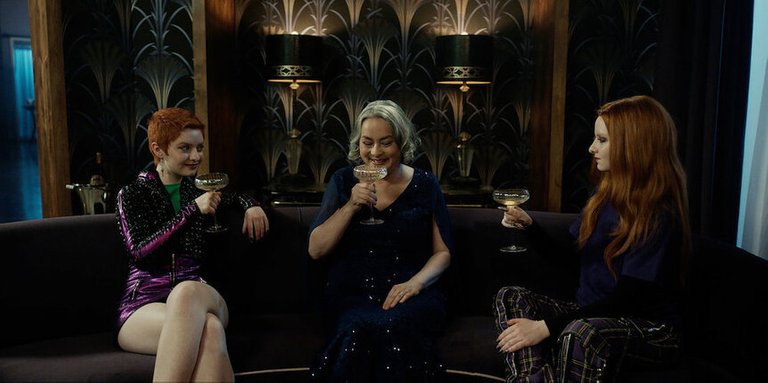 source
Welcome back Glen and Glenda. That's Meg Tilly in the middle.
Go watch Psycho II if you haven't seen it yet. You'll be surprised with it.
A big reveal that I was happy to see was that of Glen and Glenda, the offspring of Chucky and Tiffany. Yes, the offspring of the two dolls. Apparently they do have working parts after all, who knew? You really should if you saw that film haha.
The series runs at a brisk pace clocking in at eight episodes with a story that twists and turns much like the entire franchise. The season run will not leave a Child's Play fan unsatiated. Television has not dropped the body count, profanity or satire either.
Don Mancini is still helming writing duties and Brad Dourif is still the voice. I wonder what they were thinking in the remake in 2019 starring the voice of Mark Hamill? What a disappointment.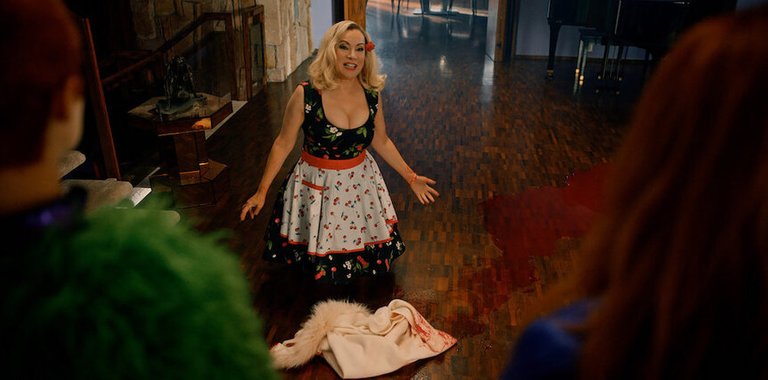 source
I had to kill that Child's Play (2019). I don't think anyone will miss it.
Thankfully for that flop we were able to get this new series and I've been having a ball with it. The Child's Play universe is one extremes with stories that aren't afraid to go into directions you wouldn't expect. The whole idea of a killer doll requires a larger suspension of disbelief than most horror films and that's fine with me.
Over the years it traveled the road from genuinely scary, to campy and then broke all those barriers into the version that we have now. This is the nice part about the horror genre. You can sneak in anything you wish and discuss topics that may be taboo.
This is nicely touched upon in my favorite episode of the season called Death On Denial. This episode is right in the middle of the season and breaks up the season nicely. The viewer is completely taken out of the show and placed in the home of Jennifer Tilly. We're playing a murder party game except someone is actually murdered.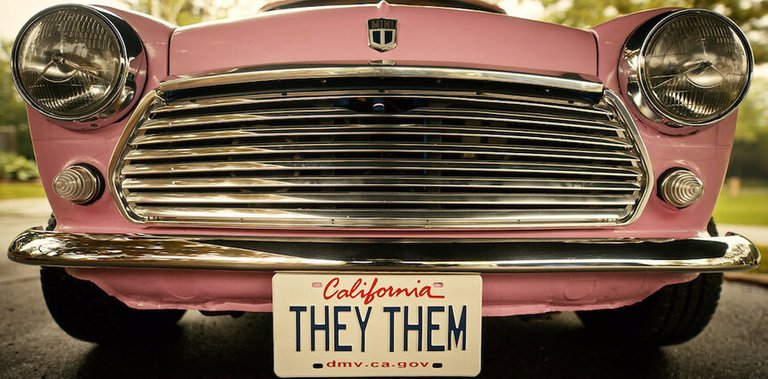 source
Subtlety is not something the series is known for and I love it.
This is when we get re-introduced to Glen and Glenda, the conspicuously absent genderfluid character from the later Child's Play films. We soon become introduced to a boorish hired "butler" that we discover is not really the reason why he's there. He says all the wrong things to all the wrong people. The cameos in this episode are delightful with Meg Tilly (yes, Jennifer's sister), Gina Gershon (yes, from Bound (1996)) and even Joe Pantoliano (yes, Ralph from The Sopranos). With all these great actors you know we're going meta and we hit all the big ones.
This "butler" character might be considered as some of the more vocal critics about the LGBT content found within the show. Don Mancini has always strived to make horror more inclusive and I cannot think of any other franchise that does it as well here. The character is a stereotype of the highest caliber with some great one-liners that make you shudder. I love how how pronounces Gina with a hard G sound, so utterly clueless and funny.
You might even pick up on some gender-neutral terms such as nibling, a child of a sibling replacing the word niece/nephew. I was not expecting a show about a killer doll to bring in something like this. This is the perfect episode considering the resurfacing of Glen and Glenda. A pleasant surprise as you never really quite know where the plot will take you.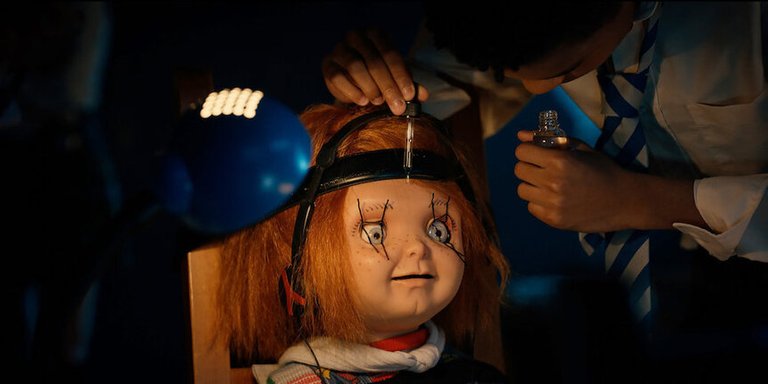 source
How could I forget this scene? I believe it's a reference to another film haha. There are a few this season.
Apparently you can drop the f-bomb 10 times on television these days too as you'll soon find out.
As with any good show they leave you wanting more. In the final episode, Chucky comes back yet again but this time sitting by a warm Christmas fire recounting the death count in the season. He evens incorporates it into a jolly Christmas tune.
Season 3 hasn't be renewed yet and I feel it will be soon enough. This is over the top camp with a long memorable cast. I hope they can keep up with the pace as I'm having so much fun with it. You never know where the plot will go with this entire series.
Thanks for the read 🙂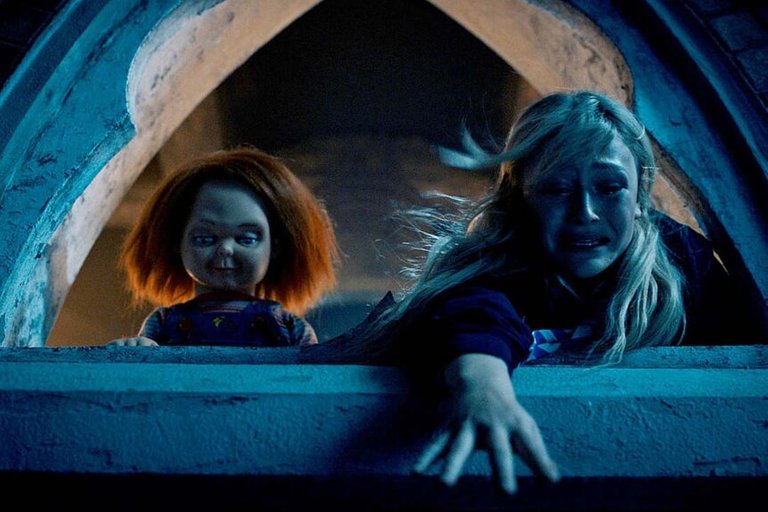 source
Is season 3 down there? I'd be very surprised if this isn't picked up for another season.
---
---