Film Review: Frailty (2001)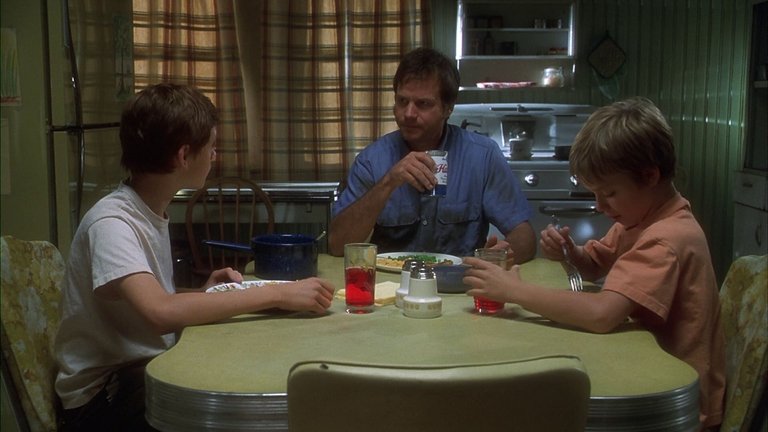 Bill Paxton was one of the most interesting Hollywood actors in last decades of 20th and first decades of 21st Century. While the most memorable films he appeared were those in which he played supporting roles, like Private Hudson in Aliens, he has proven himself in lead roles, most notably in TV series Big Love. He has also shown ability behind camera, first with music videos, then with his 2001 feature debut, horror thriller Frailty, which received great acclaim by critics and is now sometimes viewed as tragically underrated and unjustly forgotten classic of both genres.
The plot begins in Dallas, Texas, where FBI Special Agent Wesley Doyle (played by Powers Boothe) has spent years trying to catch serial killer nicknamed "Hands of God" for years. One night his office is visited by mysterious young man (played by Matthew McConaughey) who introduces himself as Fenton Meeks and says that the killer is his brother and that the motive is in traumas he experienced in childhood. Through the flashback plot goes back in 1979 when Fenton is young boy (played by Matt O'Leary) lives in small town of Thurman together with younger brother Adam (played by Jeremy Sumpter). They are taken care of by their widowed father (played by Bill Paxton) who works hard to support them. Their life is happy until one night when father wakes them and tells them he was visited by an angel and given important task from God. There are demons hiding among people and the family Meeks must seek and destroy them. While Adam believes that story, Fenton is convinced that the father lost his mind. Life is normal at first, but when his father starts abducting and bringing "demons" to their house in order to "destroy" them with an axe, he insists that his sons help him. Fenton finds himself faced with terrible dilemma – whether to report father to authorities or to become participant in his homicidal madness.
Frailty was made with relatively low budget of 10 million US$ and in less than a month, but despite that, they give impression of being made by true cinema master. Paxton has apparently a lot while working with great directors like James Cameron and it shows in the way he handles complicated and demanding script that required plenty of flashback and good editor. That editor was Arthur Glassman and his efforts were helped by experienced cinematographer Bill Butler, known for his work on some of the most important 1970s New Hollywood films. Butler helped created very dark atmosphere that could be challenging for the more sensitive viewers. One of great strengths of Frailty is the script by Brent Hanley, inspired by Christian fundamentalist beliefs which are relatively common in rural Texas where the plot takes place.
Paxton, who was, like the protagonist, a Texan, obviously found a little bit of himself in the script and he used his familiarity with the setting to invest a lot of energy both behind and in front of camera. Taking The Night of The Hunter, another great film that had been directorial debut of an renowned actor, as inspiration, he was telling extremely dark and disturbing story from the perspective of children. As an actor, Paxton delivered the best role of his career by playing man who desperately try to reconcile his killing mission with a parental duty. This is what makes Frailty disturbing – people are being killed not only by someone that looks like "normal" upstanding citizen and family man, but someone who actually see himself as such. Paxton is helped in his efforts by fellow Texans McConaughey and Boothe, and two young actors playing his character's sons should also be commended for their handling of difficult and potentially thankless roles. General impression might be marred by "unconventional" or, in other words, predictable finale, but it will be much improved by repeated viewing when audience might notice many subtle or not so subtle hints Paxton has left throughout his film. Although Paxton made another feature (2005 sports drama The Greatest Game Ever Played), success of Frailty was never repeated. This film, unjustly overshadowed by others in which he was directed by other, more notable film makers, represents the brightest spot of his career.
RATING: 9/10 (++++)
---
---