Film Review: Intimacy (2001)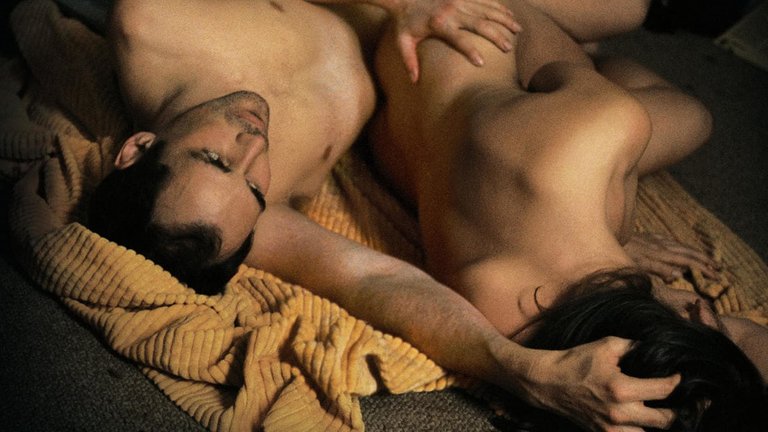 Among the 21st Century films remembered for the wrong reasons a very special place should belong to Intimacy, 2001 Franco-British drama directed by Patrice Chereau. The film that won Golden Bear at Berlin Film Festival would have been soon devoured by oblivion, like so many pretentious pieces of European arthouse cinema, if not for certain detail of its content that would in later years plague two main members of its cast.
The plot is based on the stories of British writer Hanif Kureishi and set in London. Protagonist, played by Mark Rylance, is Jay, former musician who lives in dilapidated apartment after his wife and children left him. He is making ends meet as barman in posh pub, while the escape from monotonous life is provided by mysterious woman (played by Kerry Fox) with whom he meets every Wednesday and have brief, but passionate sex. Jay is at first happy with casual nature of such relationship, but gradually begins thinking that it should be something more than simply satisfying carnal desires. He begins to discreetly his partner and discovers that her name is Claire, that she has a family and spends some of her free time as amateur actress. In order to discover as much as possible about Claire's life, he even befriends her husband, kind-hearted taxi driver Andy (played by Timothy Spall), unaware that such action could have devastating consequences for his relationship with Claire.
Intimacy created much attention because it followed a trend in late 1990s and early 2000s art cinema, with many film makers trying to distinguish themselves with "edgy" content. And the easiest way to achieve such "edginess" was to have cast members perform actual unsimulated sex on screen. Since CGI and prosthetics weren't available, in case of Intimacy this meant that Sir Mark Rylance and Kerry Fox actually had to in front of cameras what Bill Clinton and Monica Lewinsky have done in White House. Both Rylance and Fox were well established and respected actors – Rylance was director of Shakespeare Globe Theatre in London, while Fox was one of the most prominent New Zealand actresses of the 1990s, starring in Danny Boyle's Shalow Grave and number of mostly arthouse films. Despite winning Silver Bear for Best Actress in Berlin, Fox many years later expressed regret over her role; Rylance (who would later have prominent role in Dunkirk) did the same, claiming that it had negative effect on his marriage.
Porn industry, on the other hand, didn't have to worry much about new competition from "mainstream" cinema. It could be argued that sacrifices of Rylance and Fox were in vain, because the scene in question, just like other (unsimulated) sex scene that take large portion of the film, are quite un-erotic and not attractive at all. Actually, there is hardly anything attractive in Intimacy at all. That includes two main characters, which are unlikely to cause much empathy from the viewers – Ray is someone who gave up on family for utterly selfish reasons, while Claire is pretentious art snob. All their friends are even worse, being portrayed as alcoholics, drug addicts or mentally unstable persons. The only one who can get a little grain of sympathy is Andy, played by always dependable Timothy Spall, but he appears too late to improve general impression of the film. While Andy is not around, all audience see is ugliness, at times made unbearable by cinematography of Eric Gautier, which appears to try to convince viewers of life being pointless. While films which make that case aren't uncommon, they usually do it with more style and skill than this pretentious film that forces audience to sit two hours in theatres in order to briefly see content which is easily available on Internet.
RATING: 2/10 (-)
---
---