Film Review: The Curse of the Jade Scorpion (2001)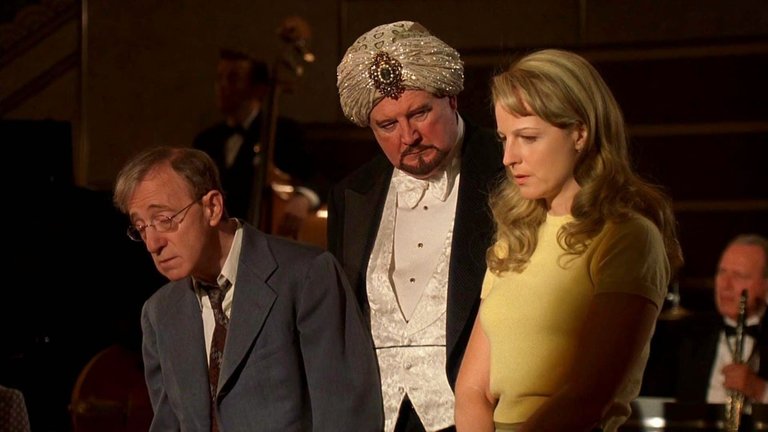 When a film maker is as prolific as Woody Allen, his or her films run risk of resembling each other too much. Allen struggled with this by employing all kinds of stylistic and structural experiments in his work, like black-and-white German Expressionist cinematography, 1930s style musical numbers or use of Greek chorus. But in one particular case Allen decided not to experiment at all and delivered The Curse of the Jade Scorpion, 2001 period crime comedy which can be best described as one of the most vanilla of all Allen's works.
The plot is set in 1940 Manhattan. C. W. Briggs (played by Woody Allen) is investigator employed by North Coast insurance company. He has gained reputation of an expert, mostly due to using old-fashioned investigative methods like instinct and paying off informants. His boss Chris Magruder (played by Dan Aykroyd) has recently hired Betty Ann Fitzgerald (played by Helen Hunt) as an executive and efficiency expert. Fitzgerald adopts new mindset and wants the company to get rid of dinosaurs like Briggs and instead hire private detectives on case-by-case basis. That creates enmity between Briggs and her, further complicated with her romantic liaison with Magruder. This will lead to comical complication when North Coast personnel gets invited to variety show in night club. Voltan (played by David Ogden Stiers) picks Briggs and Fitzgerald as volunteers and, using hypnosis, convinces them that they are hopelessly in love with each other. When they wake up, Briggs and Fitzgerald don't remember a thing, but hypnosis seems to have a long-lasting effect. The magician has left post-hypnotic suggestion in Briggs which makes him steal jewels of his company's clients. Briggs for the first time has to face to case he can't solve and in which he happens to be one of the suspects.
If not made in colour, The Curse of the Jade Scorpion would have been indistinguishable for numerous B-films Hollywood used to produce in 1940s. Allen obviously aimed to pay some sort of homage to the works that, in their own way, tried to bridge gap between classic screwball comedies and film noir. While production designer Santo Loquasto and costume designer Suzanne McCabe did everything in their power to reconstruct the epoch (and thus making The Curse of the Jade Scorpion the most expensive of all Allen's films by that point), Allen failed in his attempt to copy the style of Classic Hollywood masters like Howard Hawks or Edward Dmytrik. Even bigger issue is something that plagued a lot of Allen's films – lack of actual humour. Even Allen's directions seems to mechanical and the audience doesn't have much opportunity to gain sympathy for the characters or care for their fate. The acting is so-so, with possible exception of Charlize Theron whose character of fatal seductress seems to have arrived in the film by mistake. Critics after the premiere were mostly mixed, and Woody Allen himself was later quite displeased with the film and considered it one of the worst in his fimography, While watchable, The Curse of the Jade Scorpion is a film that could be recommended only to the more devout among Allen's fans.
RATING: 4/10 (+)
---
---