Film Review: Young Adam (2003)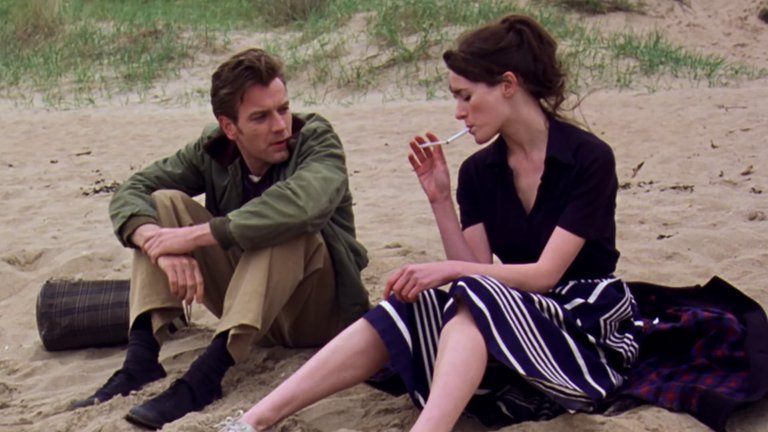 Among the actors willing to go the extra mile for the sake of the role Scottish actor Ewan McGregor stands out for his willingness to perform in front of camera in his birthday suit. While increasingly neo-puritan Hollywood of late 20th and early 21st Century Hollywood left few opportunity to show this, art cinema in his native country was quite different matter. This could be seen in Young Adam, 2003 period drama written and directed by David Mackenzie.
The film is based on the 1954 novel by Alexander Trocchi, Scottish writer known for his anti-establishment views and bohemian lifestyle. The plot is set in 1954 Glasgow and the protagonist, played by McGregor, is Joe Taylor, aspiring writer who became frustrated with writer's block and instead began to support himself through menial jobs. One of those includes working on a river barge run by Les Gault (played by Peter Mullan) and owned by his wife Ella (played by Tilda Swinton). After some time Joe stops hiding the attraction he feels towards Ella and she, despite having young son Jim (played by Jack McElhone), succumbs to his advances and starts torrid affair. This is hard to hide from Les who at the end of the day decides to simply leave barge and let Ella have her young lover. Joe, however, becomes less enthusiastic about Ella when she starts hinting that they should get married. In the meantime, Joe remembers torrid affair he had with an office worker Cathie Dimly (played Emily Mortimer), young woman whom he made pregnant only to accidentally cause her death by drowning. The police investigation interpreted as murder and her former married lover David Gordon (played by Ewan Stewart) is brought to trial.
Scottish director David Mackenzie has very diverse filmography and today's viewers know him best for his 2018 Netflix-produced historical epic The Outlaw King. This film, however, displays Mackenzie's ability to direct somewhat less ambitious period drama and convincingly recreate 1950s Glasgow, which is depicted as cold, bleak and depressive place. Most of those who remember Young Adam, on the other hand, do so because of the series of sex scenes that are rather graphic, at least for puritanical Hollywood standards, which led to the film being branded by NC-17 rating by MPAA censors during North American cinema distribution. Those scenes, however, are hardly erotic and having almost completely amoral and selfish protagonist doesn't help. Most of other characters aren't particularly likeable, but, on the other hand, McGregor, simply by being physically attractive, makes film watchable at least for female part of the audience and his looks easily explain how his character easily conquers various woman who more than eagerly serve his almost insatiable sexual appetite. Despite that Young Adam is rather depressive film and mostly unpleasant to watch, but it still can be recommended to most enthusiastic among McGregor's fans and those who appreciate Mackenzie's skills as director.
RATING: 5/10 (++)
---
---