An Outstanding Historical Drama—Review Of The Gilded Age (2022)
Being a fan of historical drama, I very much love Downton Abbey series and the movie sequels. They are one of my favourites and their success shot creator, Julian Fellowes, further into the limelight. He's simply great with historical dramas. I've always admired his cinematic style and works. You can imagine my excitement when I read of his next project, The Gilded Age in 2019. I wondered if it would be every bit as compelling and successful as Downton Abbey. After seeing all nine episodes, I can say it's amazing.
Julian Fellowes takes his audience to the American frontier in the late 19th century, giving us a slice of the social and financial history in New York city. We see how a newly wealthy family strives to enter the upper echelon of the society and the old-money aristocrats bristled at their presence.
The Gilded Age is an American historical drama set in the boom years of 1880 in New York city. It begins with an opening scene of the Russell family, a nouveau rich family, moving into their mansion built directly opposite the Van Rhijn family headed by Agnes Van Rhijn (played by Christine Baranski). This matriarch is stiff and uninterested in befriending the Russells.
Source: YouTube
Next, we meet Marian Brook (played by Louisa Jacobson), a young lady rendered penniless by the death and debts of her father. Her lawyer, Tom Raikes, advises her to connect with her estranged aunts, the Van Rhijns and move to New York city.
Marian gets to the train station and is robbed of her purse. A young, coloured lady, Peggy Scott (played by Denée Benton) helps by paying her fare to New York. Due to a storm, there's no available ferry to take Peggy to Brooklyn, so she stays with the Van Rhijn and becomes a secretary to Agnes Van Rhijn. The drama of introducing Marian Brook to society begins. Will the Van Rhijn get over their prejudice and become friends with the Russells? Will the old aristocrats in New York city take kindly to the new ones rewriting their traditions?
Review
Again, Julian Fellowes stuns his audience with this amazing show. The plot is brilliant and focuses on The Four Hundred society in old New York and how the 'old money' related with the 'new money'. Like most of Fellowes' films, this high society drama begins with the most lavish introduction I have seen in a TV show. The wealth, elegance and fashionable sophistication associated with upper class were on full display. The old meets the new and traditions clash with modernity.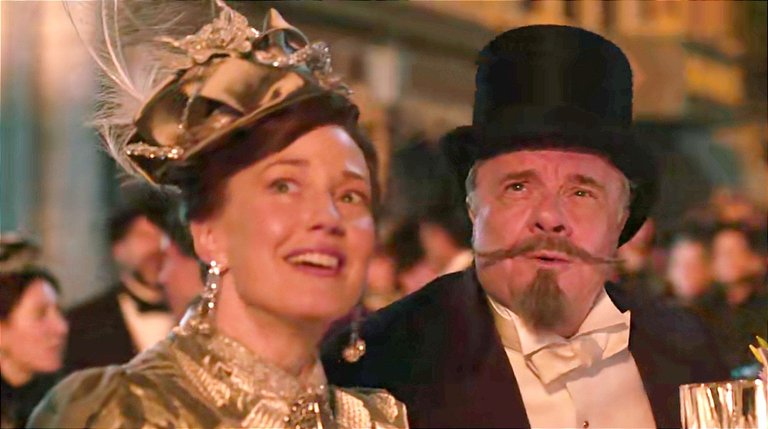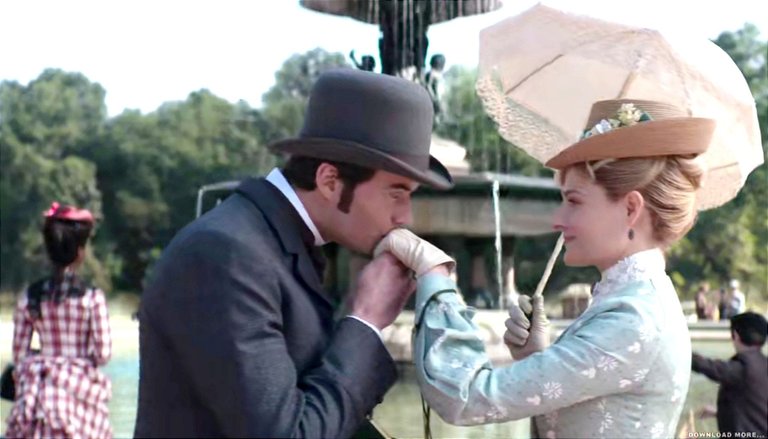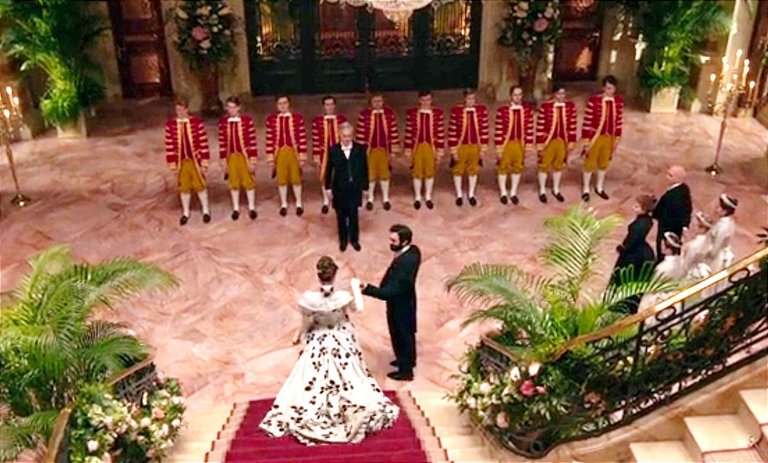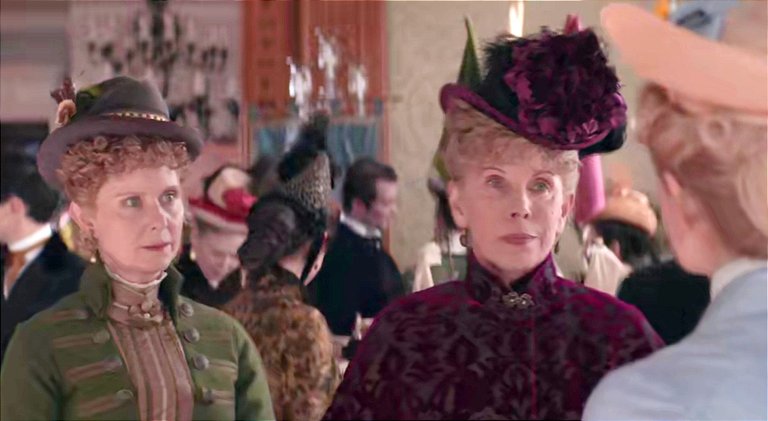 In Downton Abbey, we are interested in one big estate in the countryside and the aristocractic family living in it but in The Gilded Age, it's about two mansions facing each other on a busy New York road in the 1880s. Also, if you are familiar with Downton Abbey, you'll know that drama in both upstairs and downstairs of a household are Fellowes' forte. This new show boasts of a lot of them.
The ensemble cast are amazing. The performances of leads: Carrie Coon, Morgan Spector and Christine Baranski are too good. Christine Baranski's role reminds me of Maggie Smith's Dowager Countess in Downton Abbey and her witty remarks drew some laughs as I watched. Morgan Spector is convincing as the powerful railroad tycoon. His relationship with Carrie Coon is an interesting one and I enjoyed how ruthless they are in their social climbing ambitions.
Louisa Jacobson did great and I enjoyed how the narrative of the show is shot through her eyes. She's placed in both the new and old society while struggling to adjust in a romantic relationship with her lawyer and in a friendship with a black lady. Themes of race, power, politics, and love affairs are well displayed. The sets and the fashions are gorgeous and beautifully staged. It shows that a lot of work was put into it.
The only part I'll fault, which is major, is the focus on too many details and subplots and they haven't yet been resolved. From the first episode, viewers are thrown right into the midst of this large drama with tiny parts that we grapple to hold onto one or two significant ones. There's only so much a pair of eyes and brain can take at a time. Some characters are allowed to shine more than others and some are left hanging with no closure to their story at the end of the season. Hopefully, these characters will be brought back in the next season and their stories given a fine conclusion.
Overall, The Gilded Age first season is delightful, even-paced and worth watching for historical drama lovers. Note that it's not an accurate narration of historical events but inspired by them. It gets my 4 stars out of 5 for acting, story-telling, costumes, cinematography, and character development. Still, I prefer Downton Abbey more.
Thank you for visiting my blog.
Other images are screenshots from the series
Posted using CineTV
---
---