Cine TV Contest: Venganza bajo cero / Cold Pursuit [ESP-ENG]

Buenas noches, hoy vengo con mi segunda participación a este interesante reto de cine, esta vez con temática de invierno.
Good evening, today I come with my second participation to this interesting movie challenge, this time with a winter theme.
---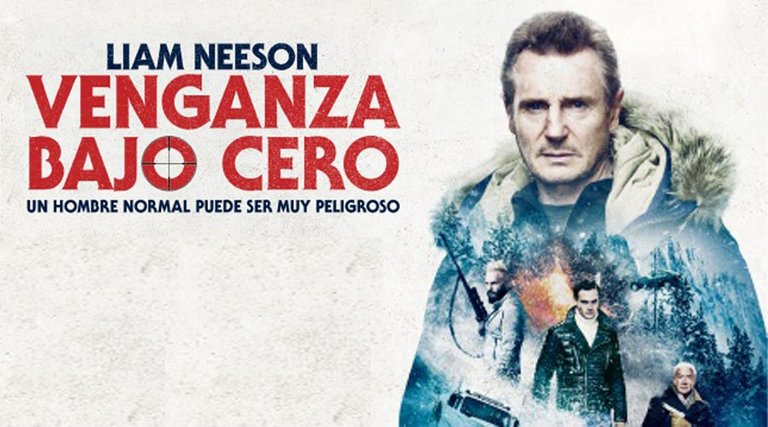 SPANISH VERSION
Esta película de acción fue protagonizada por Liam Neeson, me impresiona este actor, en todas las películas que he visto de él, mantiene ese aire sombrío, nadie podría imaginarse lo que puede hacer a la hora de defender a los suyos, pero al mismo tiempo refleja principios y valores que se pueden ven en las familias bien establecidas.
Venganza bajo cero, dirigida por Hans Peter Molan, producida en el Reino Unido en 2019, su título original era Persecución en frio. El ambiente donde se desarrolla, lleno de nieve, con constantes nevadas te da la sensación de estar en un eterno invierno, llegue a sentir frio de tanta nieve que había. En esta película podemos encontrarlo como un hombre sencillo con un trabajo normal manejando un quitanieves, un empleo para un hombre de familia tranquilo, hasta que se encuentra en una morgue reconociendo el cuerpo sin vida de su único hijo, estuvo a punto de suicidarse cuando apareció el compañero de trabajo de su hijo que estaba relacionado con narcotraficantes a los que le había robado cocaína. Lo fueron a buscar los sicarios del mafioso y el hijo inocente de todo termina siendo asesinado, a través de una sobredosis de droga para despistar, pero él está seguro que su hijo no consumía.
Es cuando se encuentra con el causante indirecto de la muerte del hijo, estaba en el momento equivocado con la persona equivocada cuando llegaron los narcos. Y es cuando empieza la venganza, acciones donde hay muchos muertos, y lo que me sacaba una sonrisa eran los apodos de los, como rapidito, limbo, santa, speedo, todos con apodos que trataban de darles un toque de humor.
Las escenas de violencia que protagoniza Liam Nesson son típicas en gran parte de sus películas, es como una marca, particularmente no me molesta porque me gustan mucho las películas de Neeson, lo he visto actuar en mejores películas, pero no estuvo mal me enganche en esta. Verlo como convierte el camión de limpiar nieve en un arma mortal saliendo ileso apuntando a una suerte de principiante es interesante. Aunque el final pudo ser mejor, veo a dos hombres coincidiendo con el mismo dolor y al mismo tiempo compartieron la satisfacción de vengar la muerte de sus únicos hijos aun sin conocerse.
ENGLISH VERSION
This action movie starred Liam Neeson, I am impressed by this actor, in all the movies I have seen of him, he maintains that somber air, no one could imagine what he can do when it comes to defending his own, but at the same time he reflects principles and values that can be seen in well established families.
Revenge Below Zero, directed by Hans Peter Molan, produced in the UK in 2019, its original title was Cold Pursuit. The environment where it develops, full of snow, with constant snowfall gives you the feeling of being in an eternal winter, I got to feel cold from so much snow that there was. In this film we can find him as a simple man with a normal job driving a snowplow, a job for a quiet family man, until he finds himself in a morgue recognizing the lifeless body of his only son, he was about to commit suicide when his son's co-worker appeared who was related to drug traffickers from whom he had stolen cocaine. The mobster's hitmen came looking for him and his innocent son ended up being murdered, through an overdose of drugs to throw him off the scent, but he is sure that his son was not using.
It is when he meets the indirect cause of his son's death, he was at the wrong time with the wrong person when the narcos arrived. And that's when the revenge begins, actions where there are many dead, and what brought a smile to my face were the nicknames of the, like rapidito, limbo, santa, speedo, all with nicknames that tried to give them a touch of humor.
The scenes of violence starring Liam Nesson are typical in most of his movies, it's like a trademark, I don't particularly mind because I really like Neeson's movies, I've seen him act in better movies, but it wasn't bad I got hooked on this one. Watching him as he turns the snow removal truck into a deadly weapon and getting away unscathed targeting a beginner of sorts is interesting. Although the ending could have been better, I see two men coinciding with the same pain and at the same time shared the satisfaction of avenging the death of their only children even without knowing each other.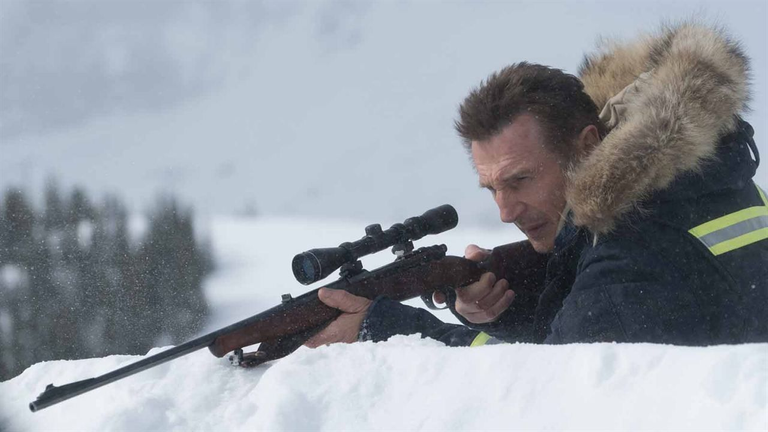 Si deseas participar en este concurso puedes conseguir más información haciendo clic aquí
If you wish to participate in this contest you can get more information by clicking here

---
---