'JUNG_E' by Yeon Sang-ho Review: An attempt at the cyberpunk genre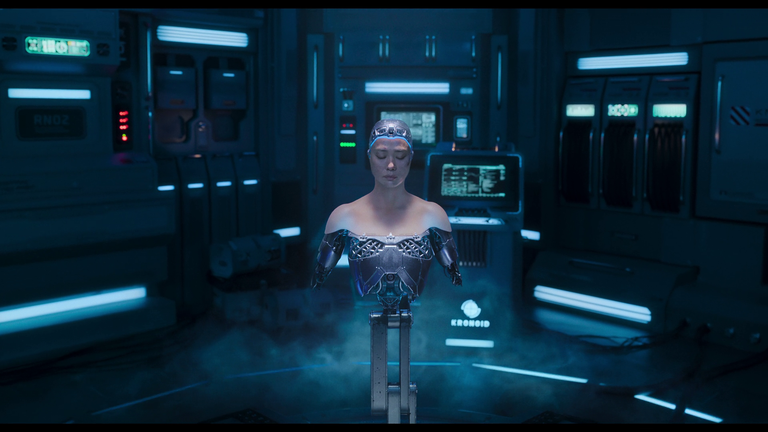 Lately you may have noticed that I haven't had a lot of faith in streaming services, particularly Netflix as it seeks to create an endless wave of series only to cancel them at any given moment if it isn't some major global hit. I mentioned that I actively avoid original content for this reason, though since a film can't be cancelled, I sometimes decide to give them a chance. Well, I stumbled across Korea's JUNG_E yesterday and was intrigued by the fact that its director was none other Yeon Sang-ho, who some may recognise from the hit that was Train to Busan; and lesser known for the terrible franchised entries that followed in its sad shadow.
Due to his ability to direct well, and with a cyberpunk theme, I was very curious. But also incredibly cautious as to how it may turn out. A Netflix original, from that director, and a cyberpunk genre film in these recent times. Typically a recipe for disaster! Cyberpunk films themselves being few and far between, often requiring a lot of attention to the genre's themes, and the high technology aspect of it often results in an overuse of special effects. That is so say that somewhere, very quickly, cyberpunk films tend to go south. Mostly a result of Hollywood's grasp on the production, ensuring it ticks all of the boxes while not becoming too expensive. Budget naturally going to special effects teams which still cheapen out a bit due to insanely expensive nature of them.
While I ignored all media attention the film was getting, I knew from the cover what type of film it would be. With a vague idea of what to expect from a more modern South Korean blockbuster. Perhaps not as Americanised as Hollywood, but definitely still maintaining its influences. It's a weird thing to admit, but I have noticed that South Korea's cinema has boomed, to a degree that its quality is started to diminish. And truthfully, JUNG_E felt very safe. Too safe.
JUNG_E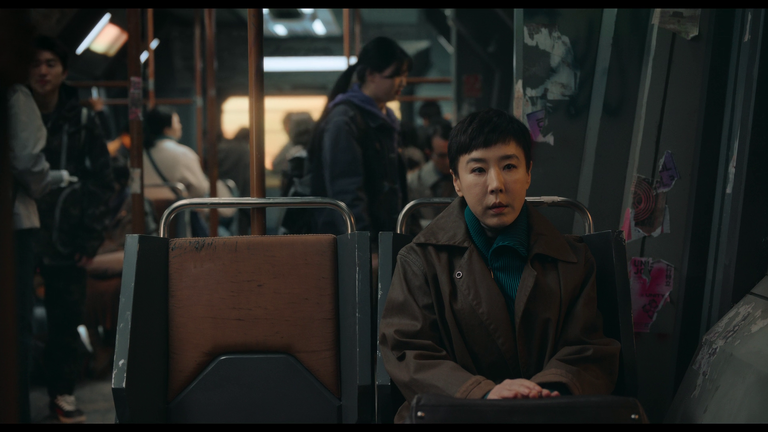 To dive into things, I would say that JUNG_E is just Korea's version of Ghost in the Shell, but without the strong worldbuilding and segments that come from it. Only sometimes hinting at the greater world that it quickly pulls you into, always making you want to see more. We see glimpses of its world, a large, very shaped city. Incredibly vertical as it reaches into the sky. It reminded me a bit of a tidier Kowloon Walled City. But we don't get much depth to it, only the same perspectives during the travels towards the city by some skyrail. This was the film's first mistake. One that made it increasingly difficult to connect with as it came to the more emotional aspects.
To add to this, JUNG_E certainly remembers that there is the corporate side of the cyberpunk genre, of which it surrounds itself for a good portion of its relatively short runtime. While starting off with the action and social effects, JUNG_E sort of takes off at the start, lands, and then sort of does nothing until the end. Where even there its conclusion feels void of depth. The dialogue in such corporate scenes feels strange, not all that impactful on the story. Particularly as certain aspects of it come into play and we see the story starting to hint elsewhere. It quickly becomes a story of a mother and daughter, but again as mentioned with a lot of similarities to Ghost in the Shell. It is disappointing given the film has some good visuals. The directing certainly isn't bad at all. I quite enjoyed it for a cyberpunk themed film. The lighting is pretty good, and the special effects, while in some areas a bit off, are more than enough. Though such scenes are typically where the action can be found, and the result is that these scenes become rather repetitive, particularly after the first opening scene in which the majority of the film's action and impressive sequences take place. It is then where it falls as it takes a shift and tries to be more human and emotional with its story.
JUNG_E then fails to do anything more with its themes. The futuristic aspect of it is quickly lost. Still present, but without depth as nothing is really approached in regards to its ideas of transhumanism. There are no philosophical or big questions to be asked regarding its main theme, and while I can argue that it isn't necessary, it should have been present for the corporate, more sluggish dialogue. To bridge the ideas it has with its characters and give us a bit more to care about. While I won't post major spoilers, the film does attempt to give us a little bit of humanity, something to potentially care for. But things feel empty, too fast (despite the slow dialogue) and ultimately very lackluster. There definitely was an attempt made, but perhaps one that just juggled too many things at once. I almost feel the film should have been made into a small series. Six to eight episodes would have been enough to flesh things out. And while I typically love shorter films, I don't feel it was done all that well. As if it was hinting that it wanted to do more, but just had been condensed down massively. Budget issues, perhaps?
Final thoughts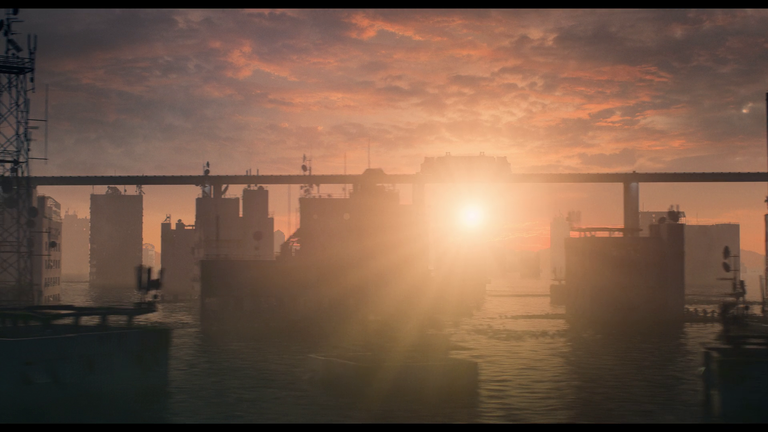 I definitely didn't hate the film. JUNG_E was a fresh attempt at some harder science fiction with a decent budget. Some good, cool action directed quite well. With some cyberpunk themes in the start that I would've loved to have seen more of. Who doesn't love giant mecha animals? And for once I feel I can say that a cyberpunk film, one that is modern, actually looked good. The visuals were the least of its issues. But sadly it was depth within its story that inevitable came to bring it down. And that's a normal aspect of the cyberpunk genre; the curse of never getting all you'd like. You get the great visuals and sound, or you get the great themes. You never really get both.
However, I still feel that the show would have worked wonderfully as a miniseries. One single season. A short number of episodes just to give the world more depth and more for the audience to care about. For a film regarding family and transhumanism, it was more empty shell than Ghost in the Shell. But if you like the cyberpunk genre and want to check out something new, this is it. There's definitely a few things here to make you happy. I know I had the most fun with its opening scene.

Join the Movies and TV Shows Community Discord.
Follow me over on Twitter!
---
---