CineTV Contest #52 : Kareen Abdul-Jabbar in some films.
Kareen Abdul-Jabbar is a former basketball player, with a brilliant career that for his individual records and his transition from Catholicism to Islam became an icon of American culture and one of the most remembered athletes in history after playing 20 seasons in the NBA. He has also appeared numerous times in movies and TV: Game of Death with Bruce Lee, Fletch!, BASEketball, Diff'rent Strokes, Full House, The Fresh Prince of Bel-Air, Scrubs, New Girl, The Big Bang Theory and many other movies and series.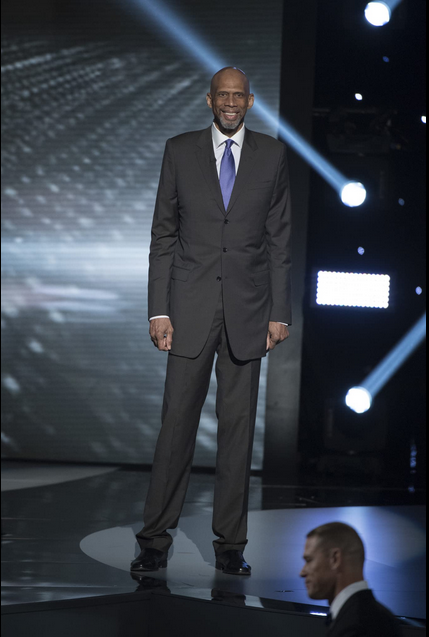 Here are what for me are the best appearances I've seen of this basketball player in the movies:
1.- Game Of Death (Robert Clouse)
In 1972 Bruce Lee (1.72 meters tall) received a call from Kareen Abdul Jabbar (2.18 meters tall), which informed him that he was going to spend his vacation in Hong Kong, Lee came up with the idea of a fight between the two given the great difference in height that existed between them.
Lee was still not very clear about the plot of the film, but he decided to film some scenes with the basketball player. It was built in Golden Harvest Studios, which simulated the interior of the Korean temple pagoda.
Kareen Abdul Jabbar was not at all accustomed to filming, and did not count on the fact that the great Bruce Lee was a demanding perfectionist when it came to combat scenes, often complaining about how exhausting and repetitive the filming was. Looking for maximum realism, Lee inflicted more than one punch in the face. Here Jabbar was Mantis, the Guardian of the Fifth Floor.
Source
This man was quite the NBA star, accustomed to being treated with all kinds of luxury and attention in the United States, but in Hong Kong he was barely known, and Golden Harvest employees were profoundly ignorant of him. Abdul-Jabbar led the Milwaukee Bucks to the 1971 NBA championship.
At the end of his participation, Jabbar demanded that Lee pay for his return ticket to the United States, which Lee refused because the trip to Hong Kong had been his, not Bruce's, business. Raymond Chow, producer of Golden Harvest, tried to calm the waters, he gave the basketball player custom-made suits before he returned to his country.
2.- Airplane! (Jim Abrahams, Jerry Zucker, David Zucker)
In 1980 the film Airplane! was released starring Robert Hays and Julie Hagerty with an inspired cast: Leslie Nielsen, Peter Graves, Robert Stack, Loyd Bridges. and of course the co-pilot Roger Murdock (Kareen Abdul Jabbar).
In the film, a little boy bullies him to the point where he breaks character to defend his NBA regular season effort. Then, he gets poisoned from eating poisoned fish faints and is dragged away after passing out, there, he is seen wearing his Lakers uniform from the waist down.
Source
According to the filmmakers, the athlete was offered $30,000 to make the film but he insisted on $35,000, which he needed to buy a merely decorative one.
3.- Glass Onion: A Knives Out Mystery (Rian Johnson)
In 2022 through Netflix you could see the movie Glass Onion: A Knives Out Mystery, and in it there is a scene in which the detective Blanc plays online Among Us with Abdul Jabbar and other celebrities (the star of murder mystery Angela Lansbury, actress Natasha Lyonne, and composer Stephen Sondheim).
Source
The record name of Kareem Abdul-Jabbar has been on everyone's lips in recent days, after his record as the leading scorer in NBA history since his retirement in 1989 was surpassed by LeBron James. The figure of 38,387 points held by the Los Angeles Lakers living legend for 40 years was broken with the former player as a privileged witness.
Source
Like any self-respecting star Kareen Abdul-Jabbar has been extravagant and has shown his taste for acting in film and television, he is quite a celebrity.
When I studied in high school I rarely played basketball because of my height all the infractions that were committed were mine, I knew of legends like the Harlem Globetrotters and Kareem Abdul-Jabbar but I must confess that my favorite sport is not this I like baseball and soccer more.
This is my participation in the CineTV Contest #52 Link Here, and in this case I base it on an important basketball figure that has acted in movies and television.
Best regards and good luck to all participants!
Posted using CineTV
---
---