The Ark: We Werent Supposed to Be Awake - Personal Opinion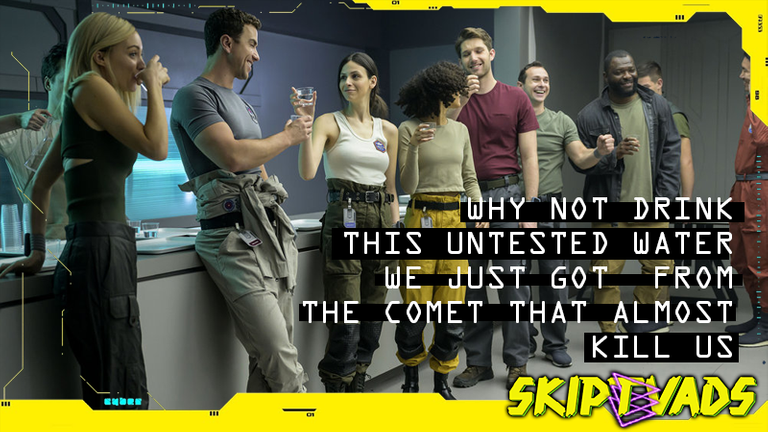 Source
Sometimes The Ark feels like a waste of time but then there comes something interesting along the way.

On Episode 4 of The Ark something happen that I saw it a mile away after watching episode 3, I finish watching they episode, they all safe now drinking untested water, "They going to get infected" I though, something will be on that water that is from space, untested and that we dont know if its good enough for humans or worst they can get poison or their organs can get infected and die. Guess what happen? the water poison the crew.
There is not much to this episode in terms of what happens but its exactly about knowing more each character.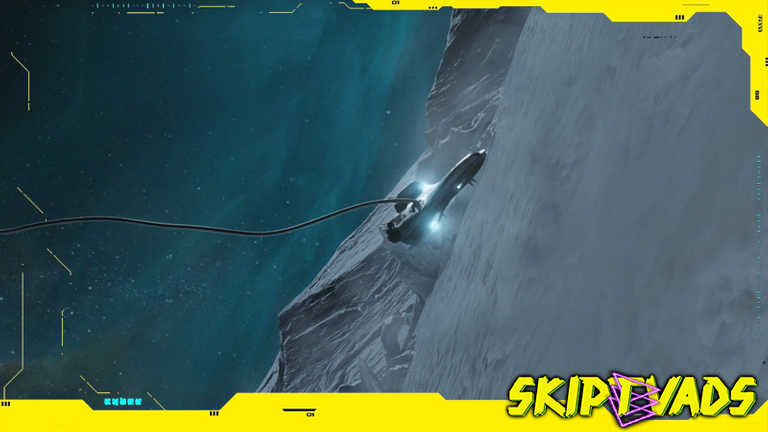 Source
The Ark is a science fiction tv show and we will find thing that probably don't make sense or are not real, that's the entire theme around it. The had no water and notice the asteroid was actually a comet, I didnt know but comets are mostly made of ice so they tether a hose to a shuttle to jump into the comet to extract ice that would melt and turn into water, thats all fine and great but right away they start drinking the water as shown in the cover of this post, you may say ok they have ultra advance filters, for regular water that has been tested and they know is good but we are talking about "water" from space, who the hell knows if it looks like water but its just something different. As soon as they start drinking the water I thought
"UNTESTED WATER THEY GETTING POISON"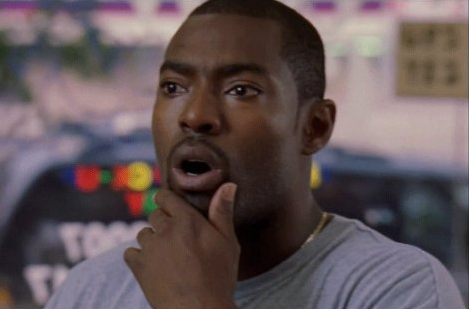 Source
They did get poison and at the same time start having hallucinations, in many ways that let us to know more about each of the characters and also discover a few secrets like what is their purpose on the ship and some had "special" missions besides just been part of the population of a new world.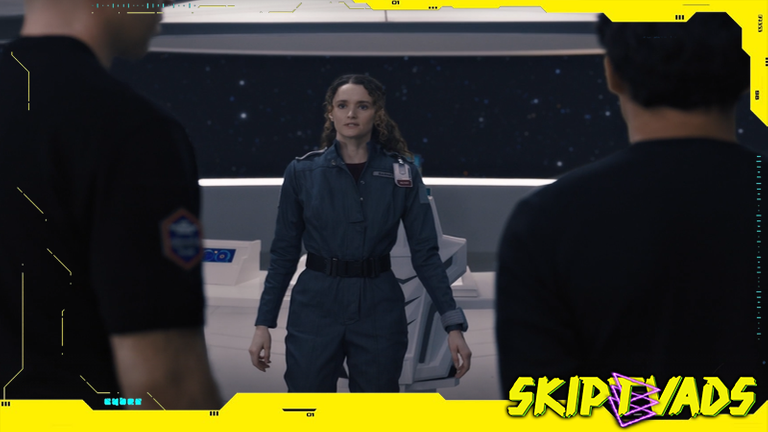 Source
The episode starts with lot of great news like the crew taking shower, others drinking water as they want, engines are back on and The Ark is in course but not everything is roses and petals for Lt. Sharon, on episode three Lt. Lane found some evidence that she is suspect for the murder of Jasper, the evidence is a video Lt. Lane found on a tablet, the video shows a women who looks the same as Lt. Sharon who kills a man at a bar by cutting his throat. I prefer not showing the killing scene, after all this is a family friendly blog 😁
She is taken under arrest for the assumption she might be aggressive and dangerous to others, Lane is considering since Spencer was in possession of the video she might knew and the reason why she kill spencer. Under normal circumstances its sounds reasonable
Then the crew start having hallucinations of different kind, I didn't know for a fact it was the water but I assume it, the first one to show this hallucinations was Strickland who kept hearing a crying baby and saw his husband, something that we didn't know, he is married and adopted a baby with his husband. Strickland for me is a secondary character that for now his story doesn't matter that much and I don't think there will be more details to be known about him.
Then we have Angus who found part of his crop going bad, it was the cabbage that was looking very bad, basically dead, but the rest of the plats were doing good, at the moment he had to run some test to find out what happen but plants drink water too so it has to be the water.
I'm going through events since except from Sharon getting arrested in this episode there was very little to do between existent characters but more to do with their past and superiors that died after the ship got hit or attacked and the entire section where all the superiors were got wiped out.
An event that I know will be important for the future is when Lt. Brice ask Angus to analyze the glove that got melted after he touch the material that was in the impact area where the ship was hit, was it done with a motive or was it just some kind of asteroid that they hit in the path.
So here the reason why Im still watching this series, its not about the theme or space or scifi, its about the story of each character and how it may connect with each other still on a scenario where they all confine to the same space and escape each other.
Sharon gets interviewed by Strickland who accuse her of killing Spencer because he had this video and probably black mail Sharon but there is more about it, she accept the video but kept saying that's not her, so she is saying the video is real, right away I said either a clone or a shapeshifter, I doubt it was a shapeshifter.
The rest of the crew started to see things but some of this were actually irrelevant and probably more to fill space, like Lt. Lane hallucinating of talking to Lt. Brice and complot against Sharon but we all know Lane wants to be in charge but doesn't have the rank to go over Sharon, besides everyone sees her as the lider of the ship including the second in command Lt. Brice.


Now here comes trouble, Dr. Kabir after confiscating all the pills that were stolen on last episode has been very tired, she hasn't take any rest besides that they had no water and decided to take pills to stake awake and keep on trucking, so she not only became addicted to this pills but on top of that she is also drinking the water that is making them hallucinate, she start to see who was her mentor who also died but latter on the episode we find out how all this stories interconnect and higher ranks knew more about all the experiments and different missions of the crew.
Just look at that face, she literally just saw a ghost, but been a women of science she understood right away it couldn't be real and there was more than him appearing and trying to correct her on the procedures.
One of the crew goes ballistic and start punching the wall trying to hit someone, the guy was out of control so they tied him up and bring him to Dr. Kabir who already knew what was happening, they were having hallucinations for some unknown reason and started to run tests on the man.
There was no escape from this hallucinations so Baylor and Stacey had their fair share too, on the Stacey side we wont get much information about her since she seems to be from a strict household and she sees someone who guides her and told her not to loose time with Baylor and get away from him.
On the other part we have Baylor who saw the captain of the ship, he was her lover, he help her recruit "light minded" people for a special mission, I'm starting to think that they knew The Ark may had next to zero chances of making it to another planet, remember earth was basically on fire when they left and only had 70 days more. We dont know the details of the special mission Baylor is involve but this are the little pieces of the puzzle, SyFy better not cancel this series.
There were a lot of crumbs of the true mission and reason why The Ark was created, as you can see every single character seems to be hiding something, yes in real life we all may hide things and Brice was not the exception, seems there is something wrong with him after all, Dr. Kabir discover it on last episode and on this episode is confirm after his hallucinations had to do with Dr. Kabir getting an exam to find out whats wrong with him, here another crumb because this mystery wont be resolve on this episode.
All this scenes setup a bigger picture for the story of each character added to the plot of the series, there are a lot of things to be discover and confirm and I hope the writer dont rush or crunch the stories.
Finally at last, part of the truth that need to be said, why is Sharon on the ship, why nobody knows where Sharon comes from, why she has a higher rank than everyone.
Sharon was artificially created
She had a sister, a clone
Sharon sister had bad temper issues
This is the reason on the video appear someone that look like Sharon but was not her and why she got to The Ark to see if she would had a higher chance of surviving in space, scientist at some point though about the possibilities of The Ark facing certain circumstances that been human wouldn't be enough so they started creating clones and trying to improve humans, but the program was shut down after discovering most clones suffer of been too aggressive to even kill people as Sharon sister was.
It turns out to be true that Sharon was more advance and resistant than other humans, the water was tested and they found that there was a substance in the water that ultimately would kill them and the only one onboard that was not affected was Sharon but Dr. Kabir pass out right after creating a solution to fix the water issue, sometimes the episodes just turn to be too obvious and for some people that would bother them and cause them to feel boring, so honestly I would give The Ark two seasons and be done.


The Ark is starting to develop as a story, we starting to know more and more about each character of the crew, some of them have more to tell than others, they all already have establish positions and duties, the relationship between them has also been establish but there is more to tell about the mission itself as we continue to discover all the secrets across each episode, as I have mention before The Ark is not a blockbuster I think that has been explain before, its entertaining and each episode seem to get better but who knows if we will have anything further than season 1.



---
---