CineTV Contest 40: Tom Hanks in Apollo 13 (1995)
For this week on CineTV, they have asked the community to write something about their favorite Tom Hanks movie. I don't know many people who wouldn't have at least one Tom Hanks movie as a favorite as he is a drn good filmmaker. Most of his films have a very wide audience appeal, and Hanks has taken on a diverse series of roles, from romantic lead to combat soldier, and points in-between. For me, one of my favorite films that starred Tom Hanks was directed by Ron Howard, another incredible filmmaker, and most people will be familiar with him as well. I give you Apollo 13.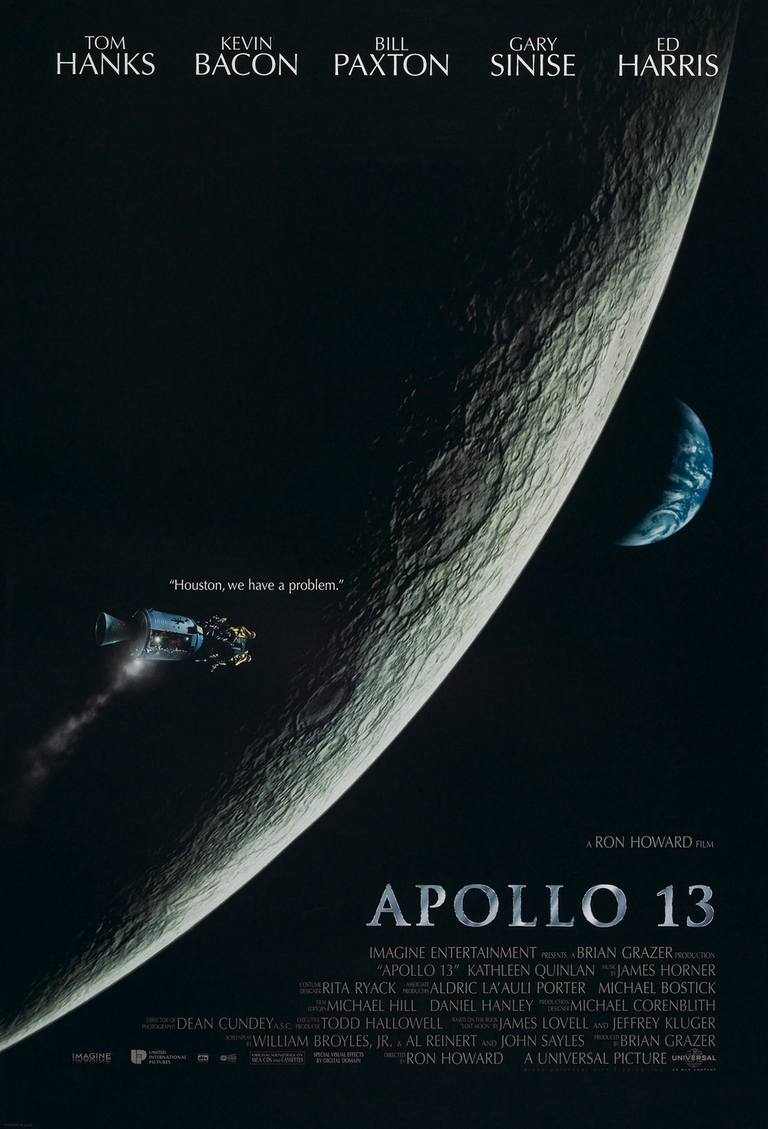 Apollo 13 movie poster - IMDB
Apollo 13 (1995) is a dramatization of the events leading up to, and during the flight of the Odyssey to Moon. It was supposed to be our third Lunar landing, however a failure in one of the systems in the service module put an end to that landing, and the safe return home was in doubt. The film is, as I mentioned, a dramatization, so they did take some liberties in order to convey a good, suspenseful drama. And I, for one, wouldn't know the difference between what really happned and what was dramatized.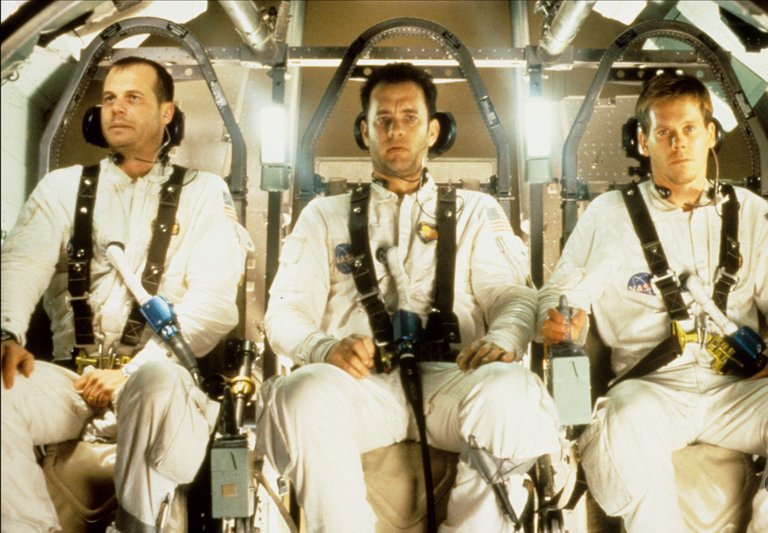 Paxton, Hanks, Bacon from Apollo 13 - IMDB
Tom Hanks played the mission commander, Jim Lovell, and delivered a fine performance, including being a calming spark between the other two astronauts on the mission, Jack Swigert (Kevin Bacon) and Fred Haise (Bill Paxton) when there was a great deal of stress between these two, and Hanks handled the scene with ease.
It's been a fair number of years since I had last seen this film, and my Bonnie Bride had never seen it. How she missed it when it was in theaters is beyond me. She enjoyed it at least as much as I did, and there were a lot of familiar faces in the cast, which included Ron Howard's brother, Clint Howard (Star Trek, Season 1, "The Corbomite Maneuver"); Max Grodénchik (Rom from Star Trek: Deep Space Nine); Herb Jefferson, Jr. (Boomer of Battlestar Galactica), and Paul Mantee (Robinson Crueso on Mars, and a heck of a nice guy who knew where to find the best Italian Restaurant in San Francisco – hint: it was in North Beach, and was one of heck of a night out). Watching the film, I had no idea that Jefferson and Mantee were in the film until towards the end when I spotted them amongst reporters, and Jefferson had several lines in the film. I was "Was that Boomer in there?" Yep, it was.
There were also a lot of other well known actors in this film, way too many to name, especially since the focus of this post is Tom Hanks, who is definitely one of the best actors currently working in film. I don't think he's ever made a bad film, and most have been really darn good.
Apollo 13 is also a special movie for me as I remember watching the events unfold, which as a kid kept me on the edge of my seat, and the film did the same, kept us both on the edge of our seats. You keep wondering how the team on the ground were going to solve the many challenges the Astronauts faced out in the void of space, knowing that if they got things wrong, all three men would be lost. There was also the intensity on the home front as the Lovell's and Haise's wives, and the kids, all have to deal with the stress and anxiety that the mission could still end in disaster and loss of life.
There are several things that make this a special film for me, having lived through the time is one of them. Being a long time science fiction fan, and, consequently, a kid would have loved to have been an Astronaut (not sure what happened to that dream of mine, parking orbit I guess), being some of them.
As always, to learn more about CineTV community and their current contest, check out - https://peakd.com/hive-121744/@cinetv/cine-tv-contest-40-favorite-tom-hanks-movie
Thanks for stopping by.
---
---