Review - A Haunting in Venice (2023)
My Bonnie Bride and I, along with our daughter, Little Miss, went to see A Haunting in Venice (2023), Kenneth Branagh's latest entry into adapting the Agatha Christie's exploits of her detective Hercule Poirot. It is very loosely based on Christie's novel Hallowe'en Party, at least according to the wikipedia entry for the film (https://en.wikipedia.org/wiki/A_Haunting_in_Venice) and book (https://en.wikipedia.org/wiki/Hallowe%27en_Party), loosely adapted is an appropriate description, with a lot of liberties taken for the story-line. Granted, I have never read any of Christie's novels, although I was interested in her works in my youth. I may at some point give her books a run.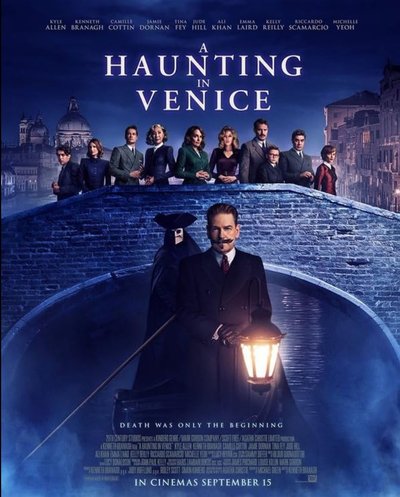 A Haunting in Venice poster - IMDB

We all found this latest film to be an excellent and entertaining film, with a fair amount of creepiness as the create team incorporated some level of supernatural feeling into the plot, and subsequent series of deaths. There is also an interesting subplot going on, which may, or may not have been part of the original novel. Haven't read it, so beats the heck out of me. That being said, the subplot involves Ariadne Oliver (Tine Fey), a renowned detective fiction writer whose previous three books were less than underwhelming in their performance, has recruited her long time friend, Poirot, to see if he can expose a medium, Joyce Reynolds (Michelle Yeoh), as a fraud, or, if, like herself, becomes convinced that Reynolds is the real McCoy and can communicate with the dead.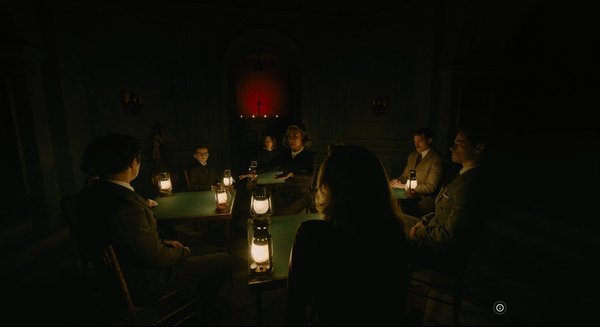 The seance scene - IMDB

This leads to a seance in a very old mansion in Venice, occupied by Rowena Drake (Kelly Reilly), whose daughter had died under mysterious circumstances a year prior, and seeking some solace from her daughter, and her daughter's death. Hopefully that's a sufficient synopsis of the story to interest you in the movie.
The incorporation of a supernatural element into the film is one of the points that interested both me and my daughter in seeing it, plus it is another Poirot mystery starring Kenneth Branagh. That paranormal element added to the story's overall mystique as well as a splash of creepiness not seen in the previous two Branagh films. There are also a few clues in the film to allow some, but not all, of the mystery to be solved.
Once we get into the meat of the story, the film flows nicely, with some interesting camera work in a couple of scenes, and some interesting effects to help drive home that maybe, just maybe, something weird is going on in the neighborhood, or at least in the mansion where most of the action takes place. The are a lot of lovely visuals in the film, both exterior shots of the surrounding Venice and its canel system, and the interiors of the mansion where much of the film is set. Also one interesting bit of special effects work during the séance involving the medium, Reynolds, adds a dimension of paranormal happenings that may, or may not be really taking place. There is also a Hallowe'en party for orphans, in the mansion, including a shadow play that helps sets the stage for the subsequent events, while providing some history on how the mansion had been used at one point in time.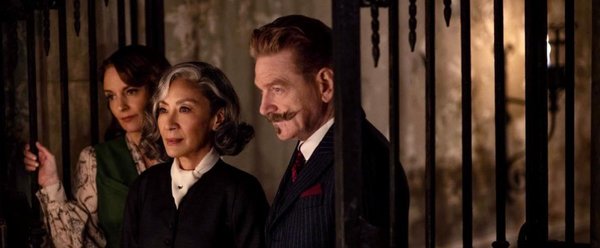 Tina Fey, Michelle Yeoh, and Kenneth Branagh - IMDB

And we're not always sure what is going on in Poirot's head as he sees and hears things that may, or may not, be there. Even Poirot seems to be questioning his own personal beliefs as he attempts to solve the mystery at hand. As things continue to get weird, we are left to wonder if Poirot will come up with a rational explanation for the strange goings-on.
Branagh is, to me, one of those few filmmakers working today that routinely turns out top quality films that I want to see (Tom Hanks and Ron Howard are also on that list). I have enjoyed seeing a lot of his films (and I have written about some of them previously), and this one is no exception. My daughter, Little Miss, also thoroughly enjoyed it, except for some of the water sequences which creeped her out a bit.
Although it may not be as good as Branagh's Murder on the Orient Express (2017), A Haunting in Venice is still a solid entry and well worth the time to see in the theater. Sadly, it is not performing well in the box office, as we could see in our own theater there were only two other people in attendance. A darn shame as the film has high production standards, an interesting story, and a top notch cast. It's possible that "Venice" I not doing well as, after reading the synopsis for the source material, it drifted too far from the original novel on which it is based so as to give us a creepier film in time for Halloween, but that is merely speculation.
Thanks for stopping by.
You can find me on twitter/X at https://twitter.com/thunderjack42
Posted using CineTV
---
---