CINETV COMMUNITY NEWSPAPER | 2023 | ISSUE 11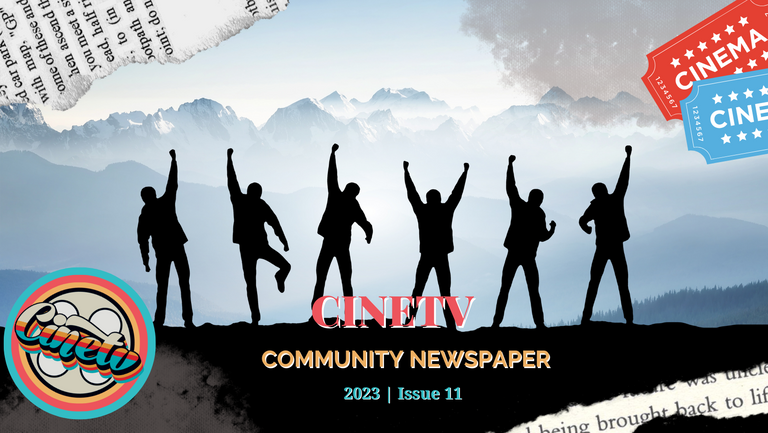 Image created with Canva Pro

Dear CineTV Community,
Hey there, CineTV community! It's just a regular week where we don't have any fancy community news to share with you, but as always we have a lot of other things to explore in our little corner of the Hive Blockchain. Like every week, the CineTV community is a great place to discover some creativity and passion.
So we encourage you to sit down and relax with your weekly Sunday Newspaper. In this issue, you'll find information about our latest contest, as well as updates on our popular CineKids and Writing Prompts sections. You can also check out Frey's Findings for the latest industry news and gossip. And don't miss The Movie Star of the Week feature, where we shine a spotlight on a different actor or actress each issue. Plus, we've got previews of upcoming movies and some juicy celebrity gossip. So sit back, relax, and enjoy the latest edition of the CineTV Community Newspaper!



And here we have another CineTV Contest. This time we're going to look at a new theme that will make your heart beat faster and appeal to your competitive spirit.
We're going to watch movies of a beloved sport with fast-paced action. Basketball has inspired some of the greatest movies of all time. Whether you're a fan of classic sports dramas or action packed movies, we want to hear all about the basketball movie that won your heart.
We can't wait to see which movie is going to take home the grand prize in this weeks CineTV Contest!
The submission deadline is 21th March, 2023, 11:59 PM, UTC time.



Movies are a way to escape from everyday reality. They can take us to worlds we never swa before, and they can take us out of our daily reality. One of the most powerful ways they use to do this is through the music. Movies often have unforgettable soundtracks, and in this blog @thisismylife explores the world of children's movie soundtracks. She highlights some of the songs from her own childhood, even awarding an 'award' for the most annoying soundtrack ever. Are you curious which soundtrack deserves this award? Then quickly read this week's CineKids!



Of course you can also find some new background stories for the many writing prompts. So if you're still in need of some extra blog-struggling-day inspiration, don't worry! CineTV has got you covered!




Have you ever wondered what is considered "cool" by the younger generation? Well here have something for you. You don't have to look any further because in "Frey's Findings" you can find everything. From the latest trends and hot topics among the youth, to the latest celebrity gossip. Everything that concerns the youth and what is considered "cool" is presented to you in a flashy writing style. Dive into the rapidly changing cultural youth landscape.




If you're ready for a little break now, grab a cup of coffee and go into the relax mode. Enjoy even more of that juicy Hollywood gossip.


Who remembers him, Macaulay Culkin? This time he makes himself heard with a very positive message. It really looks like the Home Alone actor isn't home alone anymore! In fact, he is engaged to Brenda Song and together they welcomed their second child! Congratulations to the young family! Hopefully these two won't be left home alone when the parents go on vacation, but if they do, these little ones will surely be masters of booby traps



Now, this isn't all the baby news there is to report from former child stars who struggled in later life. Lindsay Lohan can also be congratulated. For Lindsay, it's her first child, and she couldn't be happier. It looks like Lindsay has finally found happiness and this is being crowned with this pregnancy!



Paris Hilton is used to living a rich life. It is certain that her child will also enjoy this. A close connection from Paris, the Kardashians are known for their lavish gifts and lifestyle. They have given Paris and her son a huge baby present that is now in Paris's garden, and hugged by Paris every day. If the baby gifts are already so big, what will Phoenix's first birthday gift be?




So who is going to win some juicy CINE this week? There was only one comment about the Band of Brothers, and since that was a comment from @stickupboys, we have no winner this week! We had only 100 CINE and 100 Ecency Points to give away.
For next week this sets our balance to 200 CINE and 200 Ecency Points to give away!
Of coure, thanks to @ecency for generously sponsoring this fun challenge!
Are you all ready for the new challenge this week?
I'm not completely sure if you guys like the new concept, but since I don't want to give it up too fast, we're just giving it another try. Let's see if this weeks Movie is more appealing to you, and gives us more comments


This week we're going to look at a movie that launched not so long ago, but had many fans going crazy! After more than three decades, Tom Cruise stepped back into the cockpit as Pete "Maverick" Mitchell in "Top Gun: Maverick." The long-awaited sequel to the 1986 classic is an adrenaline-packed ride that has taken audiences to new heights. As Maverick struggles with his past and present, he mentors a new generation of elite pilots, including Bradley "Rooster" Bradshaw (Miles Teller). The fantastically filmed aerial images and the penetrating action make this a film that no one will soon forget. Fasten your seatbelts, Maverick is back and ready to fly!


Top Gun: Maverick
We have the tokens to give away, do you have a comment? The conditions are being looked at more strictly. And if the conditions are not met, we will not give away additional tokens.
Rules:
Only personal opinions, no plot stories , and since this is meant for more engagement on the newspaper, you're only in the race to earn some extra CINE when you leave a comment.
If you want to write a blog, that's great! But there won't be extra CINE tokens for blogs anymore.
The challenge is intended to give you an ENGAGEMENT option for the newspaper. The fact that we are giving away tokens to engage with us is an extra bonus for you. You guys are "THE COMMUNITY", and we would be nothing without you!


We keep watching for all the films that come out this year, after all, that is what the CINETV community is for. I will try to show as many different genres as possible. Hopefully there's something to your taste and you'll find a new movie for your "To Watch" list. Get ready for some trailers below!
65
Once a pilot, now a survivor. Mills, played by Adam Driver, is stranded on a planet he doesn't know. He discovers that it is Earth, but that he is back in prehistoric times, millions of years ago. With just one rescue shot, Mills and Koa, played by Ariana Greenblatt, the other survivor of the crash, brave an unknown landscape. There is danger everywhere! They must fight for their lives against long-extinct creatures. Trying to survive against all odds!


SHAZAM! FURY OF THE GODS
The tale of Billy Batson, the well-known teenage hero who can transform into his adult alter ego, Shazam, by saying the one magic word "SHAZAM!", continues in this exciting new chapter.


A SNOWY DAY IN OAKLAND
Dr. Latrice Monroe, played by Nicole Ari Parker, tries to restore her roots by opening her clinic in a neighborhood where her services have met with resistance. Despite these challenges, she learns the true meaning of a close-knit community from the people in the community. Gradually she is absorbed into their midst.


We like to point out the following note about plagiarism!
We have an entire team dedicated to finding AND reporting plagiarism and abuse. And be warned, we NEVER will tolerate plagiarized blogs. Not in plagiarized words, nor images!
We have seen some really great posts that failed to source their pictures, and so we were not able to curate them properly. Remember to only post YOUR OWN words and to properly source the photos that you use that are not your own.
Plagiarism is THEFT and has no place in our CineTV family!
Don't forget that you can subscribe to this newspaper by simply letting us know in a comment. If you want to cancel the subscription, you can do so in the same simple way.


And with that, this week's newspaper has come to an end. We hope you enjoyed it and we'll see you next week with a new newspaper! If you find this newspaper and want to chat with about movies and TV with us, feel free to join is in our DISCORD


Thanks...we love you all!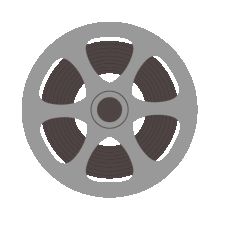 Posted using CineTV
---
---