CineTV Community Newspaper | Issue 14 | 2023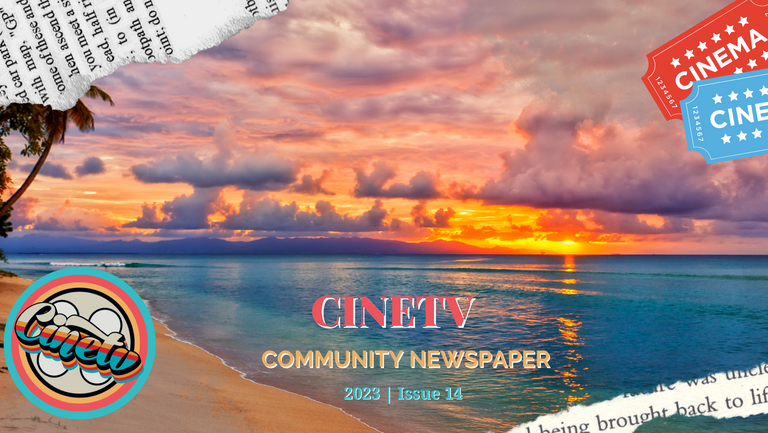 Image created with Canva Pro

Dear CineTV Community,
Welcome to our Newspaper in this wonderful Easter weekend. Of course everyone would like to wish you a Happy Easter, and we hope it will be a nice weekend for everyone. Thank you for taking the time to check our newspaper.
We encourage you to sit down and relax with your weekly Sunday Newspaper. In this issue, you'll find information about our latest contest, as well as updates on our popular CineKids and Writing Prompts sections. You can also check out Frey's Findings for the latest industry news and gossip. And don't miss The Movie Star of the Week feature, where we shine a spotlight on a different actor or actress each issue. Plus, we've got previews of upcoming movies and some juicy celebrity gossip. So sit back, relax, and enjoy the latest edition of the CineTV Community Newspaper!



Time for this week's CineTV contest! Everyone grab your sunscreen, grab those bath towels from your closet and jump in your car or on your bike to go to the nearest beach. Figuratively speaking! The theme of this week's contest is all about sand, water and maybe a surfboard over the waves? We're looking for Your favorite movie with a beach
But before you jump on your seahorse to take off at a full gallop, a warning is in order. We are looking for creativity, not a simple retelling of the plot. Is there a Kubrick, Tarantino or Spielberg in you? Show us through your blog!
So grab that piña colada, a coconut water is also possible if that's more your style, and let your imagination run wild.
Of course, the winners will receive the coveted Cine tokens and Ecency Points again! We can't wait to see which movie is going to take home the grand prize in this weeks CineTV Contest!
The submission deadline is 11th April, 2023, 11:59 PM, UTC time.



It's Easter weekend here, and of course for many families that means the kids are on vacation and there's a long weekend to spend together. If you're still looking for a family-friendly movie to spend a few hours together, @thisismylife has the solution. Four older Easter films that can keep your children entertained for a few hours so that you have your hands free to do something else, or to watch with them. That choice is yours.



Of course you can also find some new background stories for the many writing prompts. So if you're still in need of some extra blog-struggling-day inspiration, don't worry! CineTV has got you covered!




Have you ever wondered what is considered "cool" by the younger generation? Well here have something for you. You don't have to look any further because in "Frey's Findings" you can find everything. From the latest trends and hot topics among the youth, to the latest celebrity gossip. Everything that concerns the youth and what is considered "cool" is presented to you in a flashy writing style. Dive into the rapidly changing cultural youth landscape.




If you're ready for a little break now, grab a cup of coffee and go into the relax mode. Enjoy even more of that juicy Hollywood gossip.


Last week we were still afraid that it would be an "Oops I did it again" story for Britney. But luckily we can bring better news this week. It looks like just "Happily ever after" story can be written. At least, for the moment anyway. After both Britney and Sam were spotted without wedding rings, this week Sam was spotted WITH his wedding ring on, and he has also firmly denied that there would be any problems in the marriage. And we can only hope that this is the truth.



Could the 64-year-old Madonna soon become even more "Plastic Fantastic"? After her previous adventures, where there were quite a few comments about her changed appearance, the question is what Madonna will do with this. According to sources, she was deeply affected by this. Madonna is going on a world tour soon, and since this could be her last tour, she wants everything to be perfect for her fans. And that perfectionism could lead to repairing where things went wrong? We'll have to wait and see.



Kanye also made himself heard again. Rather, others have spoken up regarding Kanye. His private school would lock up kids and feed only Sushi! If this were to be based on truth, then this is of course inexcusable, but is it true? Only Kanye could tell us that…




The Movie Star of the Week format has not changed this week. We still hope that we can make it a fun and engaging activity for everyone, and for that we need your participation. All you have to do is join the conversation in the comments below the paper. By doing just that, you could win some juicy CINE Tokens and ECENCE Points! Are you with us this week, for now I decided to not apply the rules too strictly, but ... be aware, I will change that. But don't worry too much, I will state that clearly once I feel you're all ready for that!
Of coure, thanks to @ecency for generously sponsoring this fun challenge!
Last week we had five people writing about Mad Max: Fury Road in their comment, that makes we give out 20 CINE tokens and 20 ECENCY points to three people. Thank you @stickupboys, @gone-hive, @thunderjack, @brofund and @nbarrios67! Congrats!
Are you all ready for the new challenge this week?


A film that won no less than seven Oscars. Among others for Best Director and Best Visual Effects. The film tells the story of two astronauts stranded in space after a devastating collision with space debris. And show their desperate attempts to return to Earth. If you like George Clooney and Sandra Bullock, you've probably seen this movie. If you haven't seen it, it might be recommended to do so this week so that you too can participate in the comments ...
The real enthusiast will of course already know which film I mean, but if you didn't realize it right away, here's your chance to leave your opinion in a comment about:
Gravity
We have 100 CINE tokens and 100 ECENCY Points to give away, do you have a comment? The conditions are being looked at more strictly. And if the conditions are not met, we will not give away additional tokens.
Rules:
Only personal opinions, no plot stories , and since this is meant for more engagement on the newspaper, you're only in the race to earn some extra CINE when you leave a comment.
If you want to write a blog, that's great! But there won't be extra CINE tokens for blogs anymore.
The challenge is intended to give you an ENGAGEMENT option for the newspaper. The fact that we are giving away tokens to engage with us is an extra bonus for you. You guys are "THE COMMUNITY", and we would be nothing without you!


We keep watching for all the films that come out this year, after all, that is what the CINETV community is for. I will try to show as many different genres as possible. Hopefully there's something to your taste and you'll find a new movie for your "To Watch" list. Get ready for some trailers below!
PAINT
I'm not going to tell too much about this comedy besides that if you love to laugh and paint, you probably will love (or hate) this one.


CHUPA
An adventure movie on Netflix that tells the story of Alex and his cousins who discover a mythological creature in their grandfather's closet. To save this Chupacabra they will have to embark on the adventure of a lifetime.


LIVING WITH CHUCKY
I've personally never been able to understand the hype around Chucky, but that has everything to do with my personal preferences, and the fact that I'm NOT a fan of the Horror genre at all. Of course, I know that many people think otherwise, given that Childs Play was such a huge box office success. Now there's something new for Documentary fans and Chucky fans. A documentary about "Living with Chucky".


We like to point out the following note about plagiarism!
We have an entire team dedicated to finding AND reporting plagiarism and abuse. And be warned, we NEVER will tolerate plagiarized blogs. Not in plagiarized words, nor images!
We have seen some really great posts that failed to source their pictures, and so we were not able to curate them properly. Remember to only post YOUR OWN words and to properly source the photos that you use that are not your own.
Plagiarism is THEFT and has no place in our CineTV family!
Don't forget that you can subscribe to this newspaper by simply letting us know in a comment. If you want to cancel the subscription, you can do so in the same simple way.


And with that, this week's newspaper has come to an end. We hope you enjoyed it and we'll see you next week with a new newspaper! If you find this newspaper and want to chat with about movies and TV with us, feel free to join is in our DISCORD


Thanks...we love you all!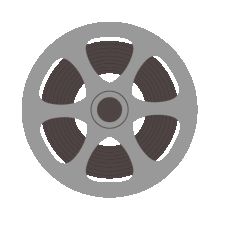 Posted using CineTV
---
---